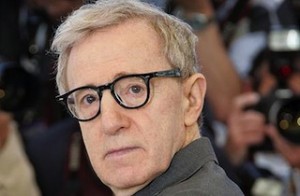 The New York Times has published Woody Allen's response to Dylan Farrow's allegation of sexual abuse in Nicholas Kristof's column. Allen focused on Mia Farrow's "malevolence" for putting the idea in Dylan's mind in the first place.
Allen said he always considered the accusation to be a "ludicrous" one and hoped that "common sense would prevail," but Mia Farrow did not let it go.
Mia insisted that I had abused Dylan and took her immediately to a doctor to be examined. Dylan told the doctor she had not been molested. Mia then took Dylan out for ice cream, and when she came back with her the child had changed her story. The police began their investigation; a possible indictment hung in the balance. I very willingly took a lie-detector test and of course passed because I had nothing to hide. I asked Mia to take one and she wouldn't.
Allen brought up the ruling by the Child Sexual Abuse Clinic of the Yale-New Haven Hospital that found that Dylan Farrow was not sexually abused and that her mother likely coached her. He said he was "heartbroken" when Mia Farrow took Dylan and refused to let him see her.
I never saw her again nor was I able to speak with her no matter how hard I tried. I still loved her deeply, and felt guilty that by falling in love with Soon-Yi I had put her in the position of being used as a pawn for revenge. Soon-Yi and I made countless attempts to see Dylan but Mia blocked them all, spitefully knowing how much we both loved her but totally indifferent to the pain and damage she was causing the little girl merely to appease her own vindictiveness.
Allen also said, "Would a mother who thought her 7-year-old daughter was sexually abused by a molester (a pretty horrific crime), give consent for a film clip of her to be used to honor the molester at the Golden Globes?"
He concluded that he hopes Dylan will one day "grasp how she has been cheated out of having a loving father and exploited by a mother more interested in her own festering anger than her daughter's well-being."
You can read the full piece HERE.
— —
Follow Josh Feldman on Twitter: @feldmaniac
Have a tip we should know? tips@mediaite.com
Josh Feldman - Senior Editor