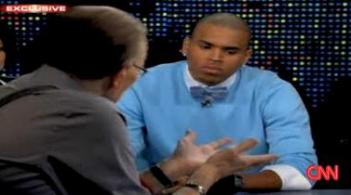 Larry King's pre-taped exclusive interview with Rihanna-beating Chris Brown is in the can, and CNN has released a short preview ahead of its Wednesday night premiere.
And despite what had to have been heavy coaching, the disgraced pop star comes off looking like a bigger douchebag than before.
Wearing a ridiculous powder blue bowtie and big bling in his ears, Brown is flanked by his mother and his celebu-lawyer Mark Geragos. For some reason, the decision was conveyed for him to express his remorse by claiming he doesn't remember what happened.
And if he had a pre-planned script for the appearance, he went rogue pretty early on. Here's an actual transcript of one of his answers:
Brown: I just, when I look at the police reports, or I hear about the police reports I don't know, I don't know what to think. I just don't know what to think. It's just like, wow.
You don't know what to think, Chris Brown? Really? How about 'I need help, because I just beat my girlfriend to the point where her face looked like this.'
Here's more:
King: Do you remember doing it?
Brown: No.
King: You don't remember doing it?
Brown: I don't, I don't, it's like, it's crazy to me, I'm like, wow.
This doesn't sound like someone particularly remorseful, or even like someone who comprehends the gravity of what he's done. But it also sounds like someone who just isn't ready to step back into the spotlight and answer for his crimes.
Over on the Larry King Live blog, the comments are largely, and predictably, anti-Brown. There are those big fans, whose misspelled statements of love for the star show the often incomprehensible truth of our overly forgiving nation – and the powerful cult of celebrity.
Of course, this is just one minute of a lengthy interview, but King provides a generally welcome forum for a person to clear the air and begin the process of rescuing an image. It doesn't appear like Brown was ready to step up (as he proved last month as well).
> Update: GossipCop.com has proof Brown seemed to have no problem remembering the night in question in an earlier interview. And now Brown is speaking out about CNN's editing.
Here's the clip:

Have a tip we should know? tips@mediaite.com