Don Jr., Ted Cruz, Steve Scalise Condemn Bombs Sent to Obamas and Clintons: 'This Crap Has to Stop'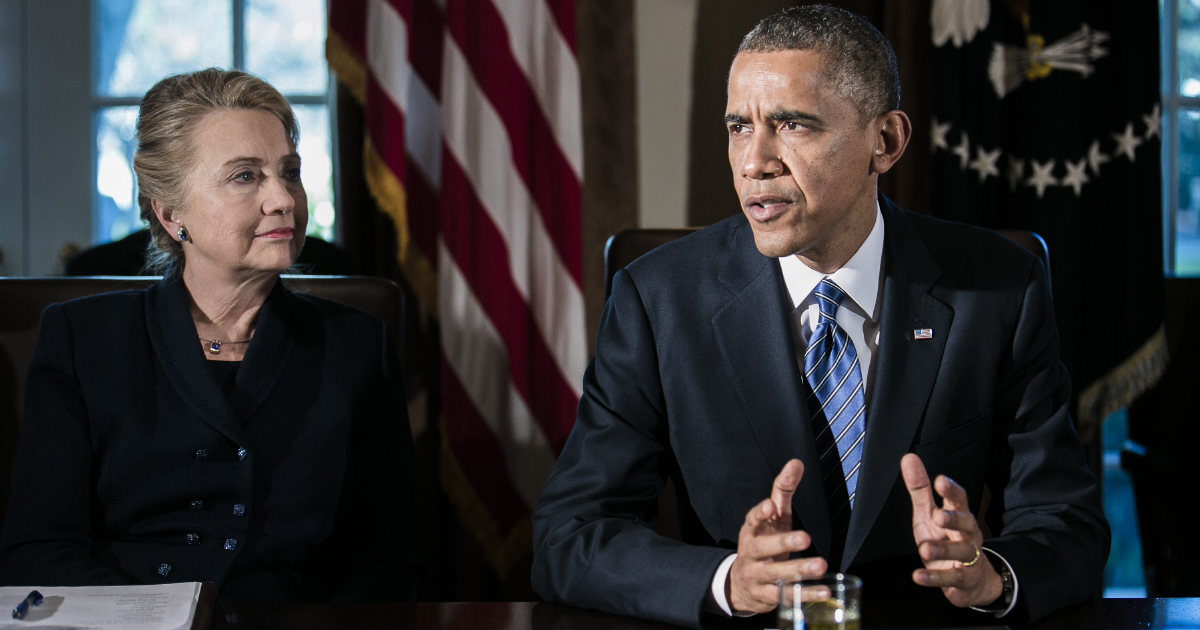 Following the reports this morning of explosive devices sent to the office of former President Barack Obama and addressed to Hillary Clinton at her residence with her husband former President Bill Clinton in New York, several prominent Republicans made statements condemning the acts.
Press Secretary Sarah Sanders issued the President's statement, and her own, but individual Republicans have been adding theirs on Twitter.
Among those were the president's son, Donald Trump Jr., Senators Ted Cruz (R-TX), Tim Scott (R-SC), and Marco Rubio (R-FL), and Speaker of the House Rep. Paul Ryan (R-WI).
As someone whose family has directly been the victim of these mail threats I condemn whoever did this regardless of party or ideology. This crap has to stop and I hope they end up in jail for a long time. https://t.co/pajRgM4hYm

— Donald Trump Jr. (@DonaldJTrumpJr) October 24, 2018
Those behind such reprehensible acts must be brought to justice. We cannot tolerate any attempt to terrorize public figures. I am grateful to the @SecretService, Capitol Police, and all law enforcement who guard against these threats. https://t.co/HUQQxynU9h

— Paul Ryan (@SpeakerRyan) October 24, 2018
Violence is never OK. Reports of bombs sent to the homes of Obama, Clinton, and Soros are deeply, deeply disturbing. America is better than this. Political disagreements are fine, even healthy, but we should always be civil and respect each other's humanity.

— Ted Cruz (@tedcruz) October 24, 2018
Today's attempted violent attacks at elected officials and the media are intolerable and have no place in our nation. We are better than this. I expect that whoever is responsible for these heinous acts will be held accountable to the fullest extent of the law.

— Tim Scott (@SenatorTimScott) October 24, 2018
Every American should be angry about these potentially explosive devices targeting U.S. political figures. We should not ever tolerate terrorism against anyone. Period. The full weight of the federal govt should be used to find,arrest,prosecute & punish whoever is behind this.

— Marco Rubio (@marcorubio) October 24, 2018
Perhaps most poignant or pertinent were comments by Rep. Steve Scalise (R-LA) who last year was shot and severely injured when a supporter of former presidential candidate Bernie Sanders opened fire on a Republican softball game in a politically motivated attempt to assassinate GOP officials.
These attempted attacks that have been made are beyond criminal, they are acts of pure terror. Violence and terror have no place in our politics or anywhere else in our society.

— Rep. Steve Scalise (@SteveScalise) October 24, 2018
I have experienced first-hand the effects of political violence, and am committed to using my voice to speak out against it wherever I can.

— Rep. Steve Scalise (@SteveScalise) October 24, 2018
Those responsible for these evil acts of terror must be hunted down and brought to justice, and I have great confidence that our law enforcement officers will succeed in that mission. As a nation, we must agree that this is a dangerous path and it cannot become the new normal.

— Rep. Steve Scalise (@SteveScalise) October 24, 2018
Senator Rand Paul, who was brutally attacked at his own home by a Democrat neighbor last year, weighed in yesterday on the pipe bomb reportedly found at the home of billionaire Democrat donor George Soros.
Violence and mob attacks are the same whether leveled at someone you like or your political adversary. They should all be condemned and stood up to. https://t.co/sYIAbnwgdd

— Senator Rand Paul (@RandPaul) October 23, 2018
[Featured Photo by T.J. Kirkpatrick-Pool/Getty Images]
—
Follow Caleb Howe (@CalebHowe) on Twitter
Have a tip we should know? tips@mediaite.com