Palestinian Activist Who Believes Israel 'Does Not Have a Right to Exist' Attends Private Event With Rep. Tlaib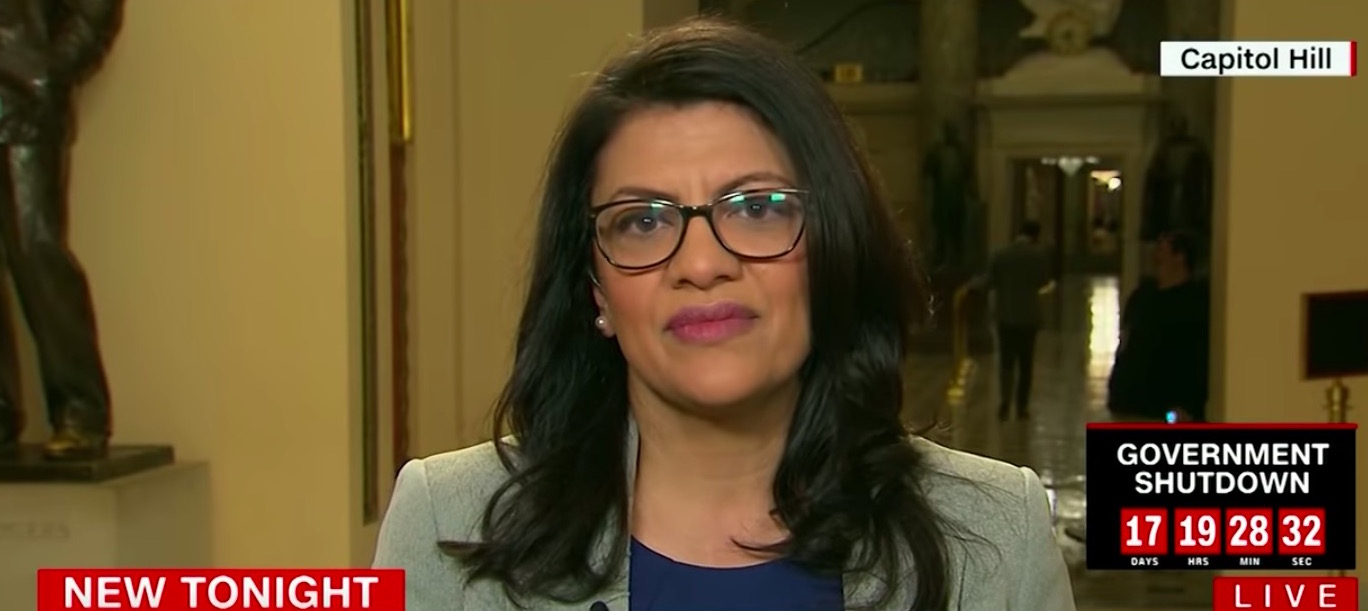 Questions about newly-elected Rep. Rashida Tlaib's (D-MN) ties to extreme anti-Israeli activists were renewed after Abbas Hamideh, Executive Director and Co-Founder of Al-Awda, "The Palestine Right of Return Movement," posted a picture on his Twitter accounts saying he had attended a private event with the freshman congresswoman.
I was honored to be at Congresswoman @RashidaTlaib swearing in ceremony in #Detroit and private dinner afterward with the entire family, friends and activists across the country. #Palestine #TweetYourThobe #RashidaTlaib pic.twitter.com/caJPN12ODX

— Abbas Hamideh (@Resistance48) January 12, 2019
Looking through his social media postings, Hamideh compares Israel to a vision dictator Adolf Hitler wanted for Germany and says the country "does not have a right to exist" because it's a "terrorist entity":
israel does not have a right to exist. The terrorist entity is illegal and has no basis to exist other than a delusional ISIS like ideology.

— Abbas Hamideh (@Resistance48) November 19, 2016
"Israel" wants to be recognized as a Jewish state. Hitler too wanted an exclusivist state w/o Jews. Funny how Nazis and Zionists are similar

— Abbas Hamideh (@Resistance48) March 21, 2014
Are we done with Apartheid Week? I want to go back to calling israel a terrorist entity.

— Abbas Hamideh (@Resistance48) February 25, 2014
He most recently tweeted how Jewish people should returned to Poland, where millions had died during the Holocaust.
I'm willing to go back to my country #Palestine if the Zionist terrorists go back to Poland. Deal? Let's get that ball rolling ASAP. Get off Twitter and let's make that happen.

— Abbas Hamideh (@Resistance48) January 14, 2019
Tlaib has spoken out against Sen. Marco Rubio's (R-FL) Senate Bill S.1, an bill that allows state and local governments to not do business with U.S. companies that partake in the "Boycott, Divestment and Sanctions" movement against Israel.
A tweet she sent that said the senators sponsoring the bill had forgotten "what country they represent" sparked more accusations of anti-Semitism:
They forgot what country they represent. This is the U.S. where boycotting is a right & part of our historical fight for freedom & equality. Maybe a refresher on our U.S. Constitution is in order, then get back to opening up our government instead of taking our rights away. https://t.co/KkmqjR58ZM

— Rashida Tlaib (@RashidaTlaib) January 7, 2019
"Sen. Rubio, it's clear my earlier tweet was critical of U.S. Senators like yourself, who are seeking to strip Americans of their Constitutional right to free speech," she followed up after Rubio said she used a "typical anti-Semitic line."
Have a tip we should know? tips@mediaite.com