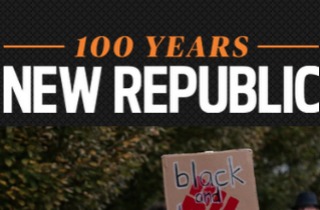 We all know now that The New Republic is in shambles and shall never return from digital purgatory, and in a scathing article from The New Yorker, Ryan Lizza, a TNR contributing editor who witnessed the entire thing firsthand, revealed one of the things that killed it: an incident where billionaire owner Chris Hughes blamed editor Franklin Foer for losing a crucial ad campaign from Amazon.
The 100-year-old newsmagazine lost nearly two-thirds of its staff after Hughes brought on Guy Vidra, the former head of Yahoo! News, to help the magazine grow its digital side — a strategy that eventually lost popularity after Vidra gave a substanceless, technobabbly speech to the staff that involved the phrases "align ourselves from the metabolism perspective," "magical experiences for both the content and the product design," and "we need to just break shit." (One staffer told Lizza that it was a "terrifying" moment.)
Days later, their fears came true when Hughes caught flak for an article Foer wrote, in which he accused Amazon of monopolization. By "flak," we mean "pissed off an advertiser":
But on October 27th, three days after the infamous Vidra presentation, Amazon's ad agency sent T.N.R. an e-mail concerning a campaign for its new political TV show, "Alpha House." "In light of the cover article about Amazon, Amazon has decided to terminate the Alpha House campaign currently running on The New Republic," the e-mail said. "Please confirm receipt of this email and that the campaign has been terminated." It was signed "Team Amazon."

Hughes forwarded the note to Foer, and Foer forwarded it to Andrew Wylie, a prominent literary agent, and Douglas Preston, the head of Authors United, which has been leading the charge against Amazon's book-selling practices. Foer wanted to make Amazon's suspension of advertising public, but Hughes insisted that he not. But without Foer's knowledge, Preston had forwarded the note to a reporter, who then e-mailed Hughes.
Hughes, who suspected that Foer had leaked the story, sent him an email "expressing disappointment over the episode." The journalist ended up not publishing the story, relations between the owner and the editor soured, and eventually, Foer was booted out of the magazine in a rather ungraceful fashion.
The entire article can be found below, including the lovely epitaph wherein Ruth Bader Ginsburg, a longtime fan of The New Republic, announced that she cancelled her subscription.
[The New Yorker]
[Image via The New Republic]
—
>> Follow Tina Nguyen (@Tina_Nguyen) on Twitter
Have a tip we should know? tips@mediaite.com