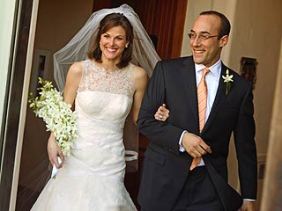 The whispers that former foreign policy adviser during the Bush administration Dan Senor will be running for New York Senate as a Republican are getting louder – and that means preemptive follow-up questions.
Senor's wife is CNN anchor Campbell Brown, and the New York Post is asking what may happen to her role if Senor decides to jump in the race.
The NYP's Michael Starr writes about where things currently stand:
Senor is now being talked about in Republican circles as the front-runner in the race for the Republican nomination after Daily News owner and real estate mogul Mort Zuckerman took himself out of the running Tuesday night.

Meanwhile, Brown has been having her own problems with her nightly show, which airs opposite Bill O'Reilly's show on Fox News Channel.
CNN isn't talking ("We don't comment on hypothetical situations" they told the Post), but the implication about Brown's "own problems" relate more broadly to CNN's lower ratings in prime time. While Brown's 8pmET show has seen some historic lows recently, the entire prime time line-up, including Larry King and Anderson Cooper, are seeing major declines (and actually Brown's show is down less year-to-year than the other two). And CNN's 8pmET hour hasn't seen strong ratings (when compared to the other cable networks) since long before Brown got there.
But if Senor does run, it could allow CNN the chance to change Brown's role and try something new in prime time. It wouldn't be unprecedented – Maria Shriver left NBC when her husband, Arnold Schwarzenegger became CA Governor (but not while he ran). And Andrea Mitchell remained a reporter for NBC News while her husband Alan Greenspan was Fed Chairman. Still, Brown is tasked with covering politics an hour each night – and as CNN fights to remain purely objective, it could be viewed as a snag for Brown to continue in her nightly anchor role.
Where would CNN go to find a replacement? If it's short-term (the span of Senor's run), it would have to be internal, and there are no immediately obvious fill-in anchors. American Morning anchor John Roberts sometimes fills in, as does Ali Velshi, now anchoring in the afternoon. Or maybe the CBS/CNN partnership could expand further – and a CBS anchor could temporarily step in.
Of course, with the way things are going here in New York, the better likelihood is Senor won't run anyway.
> Update: FNC's Greta Van Susteren defends Campbell Brown:
All she has to do is from time to time remind the viewers her husband is running for office. Viewers are smart. Viewers can make their own decisions as to what weight to give what Campbell Brown has to say on a particular political issue or story – they just need to be informed that her husband is seeking office. Once it is common knowledge that her husband is running, she can trim back the reminder to the viewers. A conflict is hidden information, not disclosed information. The only ones who think she can't do the job are the ones who think viewers are stupid or simply don't like her.

PS – women, believe it or not, don't take marching orders from spouses (neither do men!) You don't get to where Campbell Brown is by not having your own thoughts and your own will.
—–
» Follow Steve Krakauer on Twitter
Have a tip we should know? tips@mediaite.com