COVER WARS: One Year Later Biz Mags Treat Recession with Pot and Spray Paint
The media loves one-year anniversaries, hundred-day anniversaries — any excuse to zoom in on the thing they've been covering all along. This week's one-year anniversary of the financial crisis — a gold mine for business magazines! Or a call for gold spray paint, if you're BusinessWeek.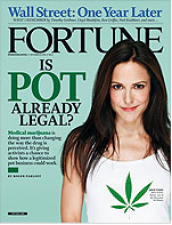 Mary Louise Parker — the maintstream, not to mention sterile, face of rampant marijuana use, after her five-season success on Showtime's Weeds. With her help, and some magic leaf, this cover could actually grab a few non-Fortune-reading stoners. And "Wall Street: One Year Later" up top is a nifty hard-news peg.
Mediaite Grade (B+): Hey, an issue of Fortune about pot — that's pretty cool. Oh wait, Sage, the color, what are you doing here? You're not very cool. If this cover was trying to make marijuana seem staid (which it probably is), then it's a wild success. We wonder how their pot story stacks up to New York mag's.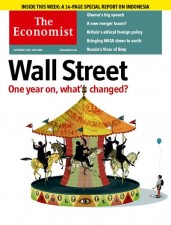 Before we snub The Economist, we want to get one thing straight: We know the cover isn't what sells the magazine (it's the incisive content, dummy). That said, we have to ask if these Economist covers are a nose-in-the-air smirk at the rest of the magazine industry, or just the product of uninspired designers who hate sharing an office with neurotic econ-types?
Mediaite Grade (D): We don't need to beat a dead horse, or a series of plastic horses revolving in a circle, but this cover is bush league. Tucking the dollar sign ornament at the top of the carousel into the deck? It's not cute. It's not imaginative. We worry that a bunch of professionals actually sat down together and brainstormed this cover, or spent any time thinking about it at all. We've seen you do your best work before, Economist design team, now keep it up. If for no other reason, to set a good example for Newsweek (their cover this week — yikes).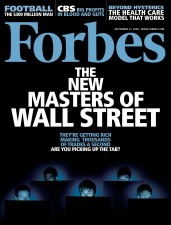 Magazines are at their best when they jump on the next hot thing, rather than just distilling a week or month's worth of news. The latest edition of Forbes does both, highlighting the story of high-speed computer trading, which has been percolating all summer —  a smart and timely take on the one-year anniversary of the financial collapse.
Mediaite Grade (A-): Visually, the cover's play with font and depth is sharp; the psuedo-pyramid of faces at the bottom, illuminated by the chilling glow of computer screens, is electric. Pick up Forbes for a smart, forward-looking take on the financial world, one year after the collapse.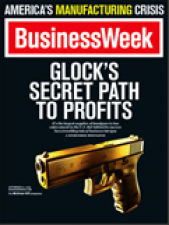 It's a scary time for BusinessWeek. People are talking about buying the magazine for $1 . We wanted this cover to be a ray of light for the floundering title. Though cheap, spray-painting a gun gold and pasting it on the cover, wasn't exactly the sizzle or pop we were hoping for.
Mediaite Grade (C+): We wonder, is there a BusinessWeek intern walking around somewhere with gold spray paint on his hands? We like the idea of putting a gun on the cover, but this one looks too fake, too gold. And the yellow at the top of the cover doesn't exactly complement the gold below (not even yellow could make the "America's Manufacturing Crisis" banner exciting). Add BusinessWeek's big, red, blocky masthead to the mix and watch the colors clash. Let's see some hustle, BusinessWeek.
COVER WARS WINNER: Forbes nailed the one-year anniversary with a cover that subtly acknowledged the bench mark, but took the story in a new direction — the future of finance. And they had fun with the cover — not too conservative, not too boring, not too tacky. Take notes, BW, before you're liquidated.
Have a tip we should know? tips@mediaite.com