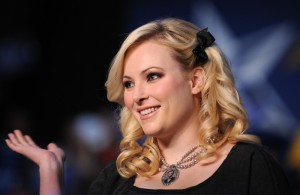 Meghan McCain — John and Cindy's eldest — has made the most of her father's loss last November, racking up media appearances with the ambitious fervor of Levi Johnston. In addition to interviews with Larry King and Rachel Maddow, McCain scored a six figure book deal and used a guest-hosting gig on The View to implore critics of her body to "Kiss my fat ass!" But the 24-year-old has also positioned herself politically as a forward-thinking conservative, using her column at The Daily Beast to voice her support for gay marriage and women's rights, leading many to pit her as the future of the Republican party.
Her next issue? Hair extensions!
In her most recent online entry, baldly titled "Yes, I Wear Fake Hair," McCain reveals that Tyra Banks' television appearance without her weave inspired her own admission:
Not all the hair attached to my head is real. Yes, I have been wearing different variations of permanent and semi-permanent hair extensions since high school. Even as far back as middle school if you count the banana hairclip with the sliver of hair attached to it I wore to my eighth-grade dance.
She continues, calling the possibility of an appearance without fake hair "almost unthinkable," but attempts to maintain her young, hip outsider status by sharing this anecdote in which she rebelled against uptight Republicans:
On the night my father accepted his nomination for president, I wore a giant Madonna ponytail extension (circa her Vogue tour)— much to the dismay of some of the campaign advisers, I might add.
Women, she explains, don't just wake up looking pretty, and a real woman knows that it's all about moderation: sometimes it's okay to be yourself, but other times "it's OK to get a little extra help when sometimes Mother Nature doesn't give you everything you want." This idea seems reasonable enough and that's exactly how McCain, painlessly crafting her image, wants to be perceived. She spells out for her readers how they're supposed to feel about her confession, noting that women "seemed to appreciate the fact that I was being real."
Possibly, but that doesn't mean it's not manufactured. And with the soapbox with which she's been anointed, and the chaotic levels of the current political discourse, are petty issues like this really the best use of her growing voice?
Have a tip we should know? tips@mediaite.com