Etiquette Cops Go After First Lady for Telling Guests 'Eat Before You Come' to Birthday Bash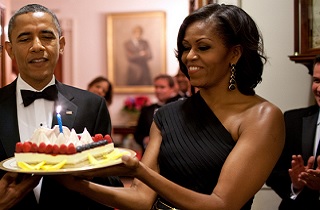 First Lady Michelle Obama is a frequent, favorite target of right-wing ire, but occasionally, the First Lady attracts the attention of Washington, DC's society reporters. The latest red-hot scandal involves Mrs. Obama's save-the-date cards to a Jan. 18 "Snacks & Sips & Dancing & Dessert" event at the White House, and its instruction for guests to "Eat before you come," which has caused a mini-etiquake in the society press.
The Chicago Tribune's Katherine Skiba unwittingly kicked the whole thing off with this lone nugget, embedded within a lengthy article about the First Lady:
The White House has been sending out save-the-date emails for a Jan. 18 gala dubbed "Snacks & Sips & Dancing & Dessert," sources told the Tribune.

Guests are being told: Wear comfortable shoes, eat before you come and practice your dance moves. Who's invited and who'll entertain remain under wraps.
The Chicago Tribune's Katherine Skiba confirmed, via email this morning, that the email, as read to her by her source, said "Do wear comfortable shoes, do eat before you come, do practice your dance moves and do email the social office."
The Washington Post's Reliable Source gossip blog went with the passive/aggressive headline "'I Don't Think It's Rude, But…' Etiquette Experts Perplexed Over First Lady's Party Plans," and tapped etiquette expert and Emily Post granddaughter Lizzie Post to evaluate the email:
"I don't think it's rude, but I do think it's a little . . . different than what people are used to. How's that for putting it delicately?" joked Lizzie Post, great-great-granddaughter of Emily Post and co-author of "Great Get-Togethers: Casual Gatherings and Elegant Parties at Home."

…"My advice to people would be not to put 'eat before you come' on an invite," Post said. "And this is not a specific etiquette thing. To me it just sounds so instructive. I'm still in the camp of letting them know what will be served at the party instead of what they should do."
The Reliable Source also tapped several other etiquette experts, who took well-mannered shots at the First Lady. ""I've never seen it said straight out. That is definitely new," DC-area planner Andre Wells told RS, and also suggest that "I know a lot of people will be happy about it. They'll say, 'Well, if the President and First Lady said it, we can certainly say it on our invites.' "
Colin Cowie, described as Oprah Winfrey's go-to entertainment guru, also threw some polite shade in Mrs. Obama's direction.
It's unclear whether this kerfufflet will make the species jump to the conservative media, which will have to choose between two sides it abhors equally, but the classist nitpicking is unlikely to dissuade the overwhelming majority of Americans who view her favorably, and likely appreciate the realness she brings to the position.
Have a tip we should know? tips@mediaite.com