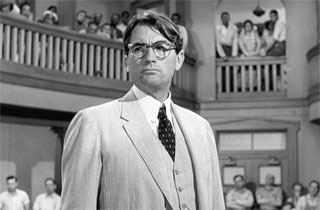 The story behind the new Harper Lee novel now contains more plot twists than a Harper Lee novel. (She wasn't big on twists, but still.)
In a testimonial for the Wall Street Journal Monday morning, Lee's lawyer Tonja Carter recounted her discovery of the manuscript to Go Set a Watchman, a prequel, sequel or early draft of the canonical novel To Kill a Mockingbird, depending on whom you ask. In it, she hinted at the possibility of an additional unpublished manuscript.
Lee has led a reclusive life since the publication of Mockingbird, currently resides in an assisted living facility, and may not be of sound mind, all of which raised suspicions that Carter and Lee's agent were exploiting her condition by publishing Watchman.
Those suspicions were complicated when it was revealed last week that Watchamn portrays Mockingbird hero Atticus Finch as an aged racist attending Klan meetings and grumbling at the Civil Rights movement, warping readers' views of a character many cherished as the paragon of racial empathy. Perhaps Lee didn't pursue Watchman's publication for a reason; perhaps she agreed with her editor's assessment in 1960 that Scout's point of view was better; perhaps it was a whole host of other options nobody could think of, as Lee doesn't give interviews.
To this we may now add another layer. "The manuscript for Watchman was underneath a stack of a significant number of pages of another typed text," Carter wrote in the WSJ of her initial foray into Lee's safe deposit box.
What manuscript is that?
Was it an earlier draft of "Watchman," or of "Mockingbird," or even, as early correspondence indicates it might be, a third book bridging the two? I don't know. But this much I do know: In the coming months, experts, at Nelle's direction, will be invited to examine and authenticate all the documents in the safe-deposit box. Any uncertainty about the "Mockingbird" manuscript removed from the mailing envelope and the mysterious pages of text in the Lord & Taylor box will be addressed. As we celebrate the publication of "Go Set a Watchman," history demands no less from us.
Whether Lee wants any of this remains anyone's guess. At this point, it may not matter.
[h/t Guardian]
[Image via screengrab]
——
>> Follow Evan McMurry (@evanmcmurry) on Twitter
Have a tip we should know? tips@mediaite.com