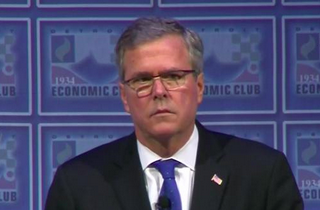 The first spring equinox has hit before the 2016 primary season, which means that it's time for all the presidential candidates to start practicing their pandering. And from his recent appearance on Kilmeade and Friends, it seems like former Florida governor Jeb Bush's pandering toolset is a little rusty.
Shot: Fox's Brian Kilmeade asked the presumptive 2016 GOP presidential candidate if he'd read an article in the New York Times, which reported that leaders from America's Christian right were unhappy with Bush and sought to back another candidate.
"I don't read The New York Times to be honest with you, so I guess you're going to force me to do so," Bush said.
While this is the perfect statement to make if one wants to throw red meat into the crowd — liberal media, amirite guys? — it's also the kind of statement that's easily disproved by, say, disgruntled reporters from the New York Times who are really good at typing "jeb bush" into their inbox search:
Doesn't read the NYT but does email with reporters here. Hmmmmm.

— Michael Barbaro (@mikiebarb) March 26, 2015
Jeb says "I don't read the NYT"
Well, maybe not anymore: pic.twitter.com/jUaBjYpSNg

— Derek Willis (@derekwillis) March 26, 2015
Jeb Bush apparently read some NYT stories when governor: pic.twitter.com/lPQhT8dlIv

— Derek Willis (@derekwillis) March 26, 2015
Is it "gotcha journalism" if the journalists themselves already have the "gotcha"? So many questions.
[The Hill]
[Image via screenshot]
—
>> Follow Tina Nguyen (@Tina_Nguyen) on Twitter
Have a tip we should know? [email protected]