OK! "Confirms" That Jessica Simpson Is Pregnant (Having Forgotten What the Word "Confirm" Means)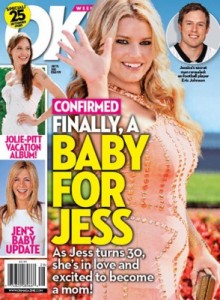 Look, we know that tabloid magazines lie. That's a given. Even their most ardent fans don't actually, deep down believe the stuff they're reading. But there are some standards that should be kept. Standards like, I don't know, the English language. That's why this Gossip Cop story about OK! Magazine (they of the similarly ridiculous Jennifer Aniston pregnancy report) and their cover touting a "confirmed" pregnancy for Jessica Simpson is so insulting. The word "confirmed" kind of means something.
Not to say that OK! didn't confirm their suspicions of Jessica Simpson's pregnancy. They just did it with a doctor…who has nothing to do with the singer.
From Gossip Cop:
"OK! cites a doctor (who hasn't treated Simpson) as saying that her tummy and facial features are typical of a woman in her 10th to 12th week of pregnancy.'

Just in case that airtight argument falls through, OK! also points out that Simpson has a new boyfriend, Eric Johnson, whom a "source" calls "husband and father material."

Plus, Ashlee Simpson-Wentz told Redbook last October that her big sister wants a baby.

Still unconvinced?

She's working out and dieting regularly (which, as everyone knows, never happens unless the goal is pregnancy) and has "thrown herself into expanding her booming fashion empire" (which, as everyone knows, is what women do during the first trimester).

OK! explains that Simpson is doing more design work because it allows her to stay home.

Apparently, it never occurs to the magazine that she just likes designing."
Fortunately some people know how you actually confirm something. Gossip Cop called up Simpson's rep who said that (surprise, surprise) there's no baby on the way. OK! is sticking by their story though. They've now printed even more "proof." Apparently Simpson wore a flowing dress recently! Oh my goodness! Someone schedule the baby shower!
Tabloids frequently proclaim "exclusive" stories and there's no problem with that. Even if the stuff they're printing is a lie, it's still a lie exclusive to them. If you're going to say a story is "confirmed" though, you should really try to actually confirm it.
Check out the full Gossip Cop story on the cover (complete with catty details) here and the story on the dress here.
Have a tip we should know? tips@mediaite.com