Oxford English Dictionary Adds 'Bestie' and a Bunch of Naughty Words We Can't Write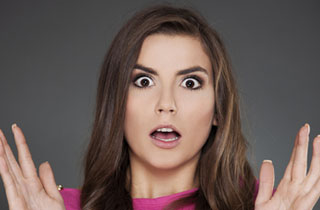 Every year, the Oxford English Dictionary adds new words in its compendium of the English language, and every year, we are flummoxed by the variety of new phrases that the esteemed dictionary declares as part of the modern lexicon. (Yeah, we read dictionaries! We're smart folk.) This year, terms such as "bestie," "beatboxer," and "wackadoo" were added, as well as an adjective used to describe women. It's…um…the c-word. .
Yes, that "c-word," okay? The derogatory term for a woman's genitalia; the one that is almost as bad as the "n-word" in terms of Things You Can't Say, Ever; the one that you should definitely never use to describe a woman.
Here is the actual entry for the c-word, which in no way should be construed to represent our editorial opinion on women at all:
c*ntish (adj., coarse slang): nasty, highly unpleasant; extremely annoying.
Variations on the word include "c*nted (adj.)", "c*nting (adj.)", and "c*nty (adj.)" [asterisks mine].
Other naughty words now in the dictionary include "cunnilingue," a noun used to describe the act of cunnilingus, and "dead white male," a noun used to describe "a dead Caucasian male writer, philosopher, etc., whose pre-eminence is challenged as disproportionate to his cultural significance, and attributed to a historical bias towards his gender and ethnic group."
(Can we just claim that the OED is the Urban Dictionary of dictionaries? Would that be redundant? Whatever, Webster's would never allow such filth in their esteemed pages.)
[h/t TIME]
[Image via Shutterstock]
— —
>> Follow Tina Nguyen (@Tina_Nguyen) on Twitter
Have a tip we should know? tips@mediaite.com