PAGING MOMMA GRIZZLY! Bristol, Levi, and Where The Palin Story Goes From Here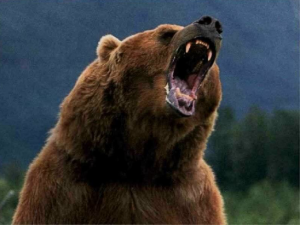 I am in love with this Bristol Palin and Levi Johnston engagement story. IN LOVE, just like two crazy Alaskan kids who had a baby together then got sucked up in the scary political-media machine and made all sorts of crazy decisions even though they loved each other the whole way through, through his Playgirl beefcake shoot and attendance at Gawker Fleshbot parties, and her battling him for custody, giving interviews to Harper's Bazaar calling him a "stranger" and balancing raising a baby with being the face of a national abstinence campaign. "One day I'll find a nice guy," she said last spring. Hooray! That day is here!
But oh! Our lovebirds have a problem! Looming over their story of perfect togetherness is a giant Mama Grizzley, rearing up on her hind legs and letting out a mighty roar. Because isn't that what mama grizzlies do? Says Bristol — whose wedding announcement on the cover of Us Weekly purportedly breaks the news to her parents, too — " "It is intimidating and scary just to think about what her reaction is going to be." Cue image of the Mama Grizzley, Ricky Hollywood hanging helplessly from her maw.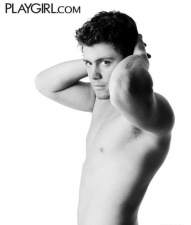 So: Is it any wonder that I — we — love this? The extended reality show of the Palin family has been a national obsession since they burst onto the scene in late August 2008 with Palin's selection as John McCain's VP running mate and then the bombshell of her unwed pregnant daughter, and then arrayed across the stage at the RNC in a tableau of the perfect post-modern American family, and then getting engaged, blissfully and responsibly, and then splitting up acrimoniously after the birth of their son, careening wildly away from each other down a seemingly irreversible path. "Going Rogue" has not only been the title of Palin's book, it's been a way of life for the entire family.
But — love it though I do, I'm not that naive. (Okay except maybe for the detail about how Levi put the ring for Bristol within a heart made of rose petals. You kids!) There are three possibilities here. One, Sarah Palin is really finding all this out now — on the cover of Us Weekly, somehow hidden from her during the magazine's trip to and photoshoot in Alaska — in which case Bristol has gone majorly rogue and we're about to see some interesting power struggles unfold. She's her own Mama Grizzly now, after all, and BabyDaddy makes three. So we'd potentially see some unpredictible, potentially awesome moments in the campaign months to come.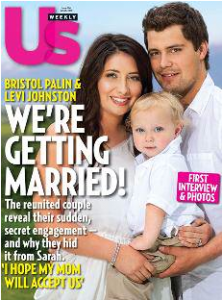 Two, Palin knew about the engagement and it may even be part of some larger, much more cynical scenario involving a reality show, as Gawker is speculating, and the perfect family story arc of redemption and forgiveness that neatly reinstates the family tableau from the RNC, through a story of Palin's personal growth and maturity and forgiveness (which note she seems to be withholding right now: "Bristol believes in redemption and forgiveness to a degree most of us struggle to put in practice in our daily lives").The triumphant return of the Palin brood, now with two more highly telegenic, highly likeable spokespeople reaching a whole other constituency.
And three, Bristol and Levi reunited naturally — and then Palin stepped in to direct the rollout. Either way, this new arc for Sarah Palin and her entire family is pretty much gold.
Eight months ago, Levi Johnston was esconced in a banquette at The Box, flanked by porn stars and the most debaucherous of New York City's most liberal media elite, about to be presented with an award in the form of an 11-inch sterling-silver sex toy. Now, he's back in the Palin brood, Bristol by his side, their baby in his arms — for better or for worse, but at least this time, for good. And one can't help but notice the timing for money-raising thinly-veiled-campaign-commercial-producing Mama Bear Grizzley-media master Sarah Palin. The the story unfolds, the drama compounds — and the head spins, just like it always does with Sarah Palin.
For now, for the rest of us, there is only to watch — and to congratulate this to innocent, adorable young couple on a joyous love reclaimed. So to them, I present these immortal words of wisdom from The Princess Bride – and if you think you might hear someone hissing "Man and wife! Say man and wife!" in the background, well, I'm sure we couldn't blame you.


Grizzly bear shot from EnglishExercises.org via Google image; Levi Johnston Playgirl photo via HuffPo.
Have a tip we should know? tips@mediaite.com