Report: Navy Yard Shooter Aaron Alexis Test-Fired AR-15, State Law Prevented Purchase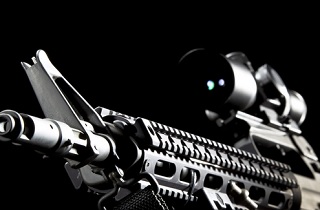 Early reporting on the mass shooting at the Washington Navy Yard created controversy over deceased shooter Aaron Alexis' supposed use of an AR-15, reporting which was later retracted. On Tuesday night, The New York Times' Michael Schmidt reported that Alexis did attempt to purchase an AR-15, even test-firing the weapon, but was prevented from making the purchase by a Virginia state law.

The suspect in the killing of 12 people at the Washington Navy Yard on Monday test-fired an AR-15 assault rifle at a Virginia gun store last week but was stopped from buying one because state law there prohibits the sale of such weapons to out-of-state buyers, according to two senior law enforcement officials.

Instead, the suspect, Aaron Alexis of Texas, bought a law-enforcement-style shotgun — an 870 Remington pump-action — and used it on Monday as he rampaged through the navy yard, said the officials, who requested anonymity because the investigation was continuing.
Schmidt's reporting also confirmed that Alexis did pass a federal background check for his purchases at the Virginia gun store:
On Saturday, Mr. Alexis bought the Remington shotgun and ammunition at the gun store and range in Lorton, Va., Sharpshooters Small Arms Range, where he also rented a rifle and practiced with it, according to a lawyer for the store.

The lawyer, J. Michael Slocum, said in an e-mail that Mr. Alexis bought a Remington 870 Express 12-gauge shotgun and about two boxes of ammunition, or about 24 shells. The purchases were approved after the store owner conducted the required federal background check, Mr. Slocum said.

"After the terrible and tragic events at the Navy Yard, the Sharpshooters was visited by federal law enforcement authorities, who reviewed the Range's records, including video and other materials," Mr. Slocum wrote. "So far as is known, Mr. Alexis visited the Range only once, and he has had no other contact with the Range."

The Virginia State Police said Tuesday that Mr. Alexis had passed all state and local background checks to buy the shotgun.
The AR-15 is classified as an assault weapon in Virginia, and in other states with assault weapons laws, and is the same weapon that was used in the Aurora, Colorado and Newtown, Connecticut mass shootings, among others. There were 96 people shot in those incidents.
In an interview with Telemundo, President Obama cited the Navy Yard mass shooting as an indication that the background check system needs to be improved.
[photo via Sharpshootersva.com]
Update: The attorney for Sharpshooters says that Alexis did not try to buy an AR-15, that he only rented one, and that it was a handgun that Alexis was prevented from purchasing. This is consistent with Virginia state law that restricts the sale of handguns to out of state residents.
However, CBS News also reports that Alexis "tried to buy an AR-15 assault rifle at a Virginia gun store last week after test firing one, but the store wouldn't sell it to him right away," and that "The reason for the refusal isn't clear."
According to CBS News, the gun dealer would have had to abide by the laws of Alexis' home state:
The owners of two gun stores in Virginia told CBS News Alexis would have been able to buy an AR-15, he just wouldn't have gotten it right away.

Anyone can buy the assault-style weapon in Virginia, but the dealer would have to observe the laws of the buyer's home state.

It appears unlikely Alexis was a Virginia resident. His last reported full-time residency was in Texas.

If the buyer is an out-of-state resident, the dealer would then ship the weapon to the buyer's home state where a background check would be conducted. At the time of purchase in Virginia, however, the buyer would have to show two proofs of residence with matching addresses and then a proof of citizenship. This is all according to federal law when it comes to sales of the AR-15, which are administered by the ATF.

It is also unclear whether the owner of Sharpshooters Small Arms Range in Lorton, Virginia, where Alexis tried to buy the AR-15 about 15 miles from the Navy Yard, told Alexis he was not allowed to buy an assault rifle, or whether Alexis was simply impatient and decided to buy a shotgun instead.
Virginia state law also imposes additional identification requirements for purchases of assault weapons, which could also have prevented Alexis from purchasing the weapon.
Neither CBS News nor The New York Times provide citations of Virginia state law. I've contacted Michael Schmidt to see if he can get clarification from his sources.
Update 2: Update: The New York Times added the following correction to their report:
Correction: September 20, 2013

An article on Wednesday about the gunman in the Navy Yard shooting, using information from senior law enforcement officials, misstated a provision in Virginia state gun law. Out-of-state buyers must provide additional forms of identification to purchase a high-capacity AR-15 rifle; the laws do not prohibit the sales of all AR-15 rifles to all out-of-state residents.
Have a tip we should know? tips@mediaite.com