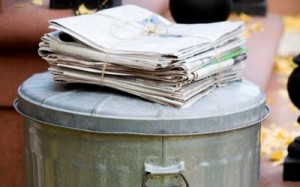 According to a link this morning on Romenesko, The Wesleyan Argus is reporting that an anonymous donor will contribute $20,000 to maintain the university's New York Times readership program, which supplies free copies of the paper daily for students and faculty.
Last year, the program faced the risk of cancelation after the university decided it could no longer foot the bill, before they agreed to split the cost with the Student Assembly. This year, the school backed out altogether and instead found a private donor to provide the news in hard copy form. Per the Argus:
Because of a price increase to the program—the third in one and a half years—only 400 papers will be delivered to the University each morning Monday through Friday, at a cost of $24,500. In previous years, as many as 700 copies were available to students.

…

Staff and faculty are being asked not to take any papers because of the reduced numbers and the fact that this year's program is not being funded by the administration.
But this is just a short-term solution to a long-term problem. Firstly, this donation barely covers two years, leaving Wesleyan to scramble for more donors not too far down the line. And that's to say nothing of the future of print — and the fact the program exists, on one hand, because large university orders doubtlessly subsidize the Times' reader base.
But wouldn't a substantial donation be better served by going toward infrastructure, extra-curricular activities or scholarship funds, considering that everything in the paper is available online, prior to delivery and for free? Surely these students — "75.4 percent said they read the supplied Times and 49.3 percent of that group said they read it daily" — also have 100% computer ownership and internet access. According to one professor, "even with 400 [copies], there are so many left over at the end of the day." With campus endowments suffering as a result of the economic crisis — and at a school that celebrates environmentalism — physical copies of the paper would be a defensible budget cut.
In a pithy and astute editorial in the Argus, student Ezra Silk wonders about the university's take on the future of journalism (including its alliance with Politico entrepreneur and alum Robert Allbritton) and notes that students are probably supportive of the NYT readership program because "many of us are the children of intellegentsia types— including a few Times reporters, no doubt." He writes, "paying attention to the musings of the chattering class is sort of in our blood," but he also seems to notice the ridiculousness of maintaining this abstract allegiance to the tune of over $20k a year. Let's just chatter online, shall we?
Have a tip we should know? tips@mediaite.com