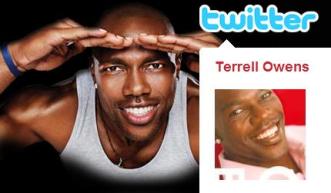 NFL star Terrell Owens wasn't very happy about being held without a catch for the 1st time since 1996 as his Buffalo Bills fell to the New Orleans Saints yesterday. But he really wasn't happy about being criticized by former NFL Pro Bowler and current NBC analyst Rodney Harrison.
And he used Twitter to unleash on Harrison.
Here's a sampling of Owens' tweets last night and today (with a focus on Harrison's suspension for using HGH two years ago):
I could less about Rodney Harrison! Anybody tht using steroids, yes STEROIDS rodney, is a cheater & cheated the game!

Hey rodney! Send me sum steroids 2 the Bills facility next week!

Since I kno the media reads my tweets, will sum1 ask rodney how long the cycles take b4 I feel results of the steroids whn he sends em?

Lol! My bad Rodney! I hv been corrected by ur supporters, u used HGH nt steroids! So, every1 go ahead & use HGH!! Geez, I guess tht makes it better 2 use!!
So what got Owens so riled up? On NBC following the game, Harrison called Owens a "clown" (again), and said, "He's more concerned with his own stats than the team's success." It's a shot, sure, but the extreme reaction from Owens is sure to raise eyebrows in the NFL front office.
This comes on a week in which the NBA is set to release their social media guidelines and policies. Although they are said to be "very minimal," a competing high-profile league like the NFL may look to follow suit – especially in the wake of Owens' targeted attacks at an NFL analyst (over an uncomfortable issue like steroid use).
NFL players are some of the most active professional athletes using Twitter, but others like Chad Ochocinco have used it in more, well, constructive ways. A little trash talk can't hurt, but is Owens going too far for the strict NFL commish, Roger Goodell (who, ironically, is also on Twitter)?
—–
» Follow Steve Krakauer on Twitter
Have a tip we should know? tips@mediaite.com