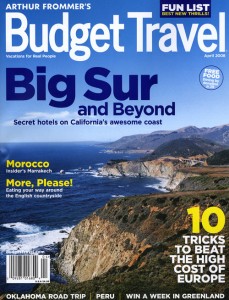 At this point it's just depressing. New York magazine's Chris Rovzar — the Daily Intel blogger who is absolutely all over the media beat these days — is reporting that the Washington Post Company's Budget Travel will be the next magazine to fold outright, based on tips from numerous sources. (UPDATE: Not the case, actually! See below.)
Rovzar highlights the company's "33 percent drop in revenue for their magazine division in the most recent quarter, compared to the third quarter last year," casting doubts on the public claim that the losses were centered around diminishing ad revenue at Newsweek, the eponymous newsweekly of the company's magazine division.
Daily Intel reports:
We have a call in to reps for the magazine for confirmation, and will update if we hear back. (Editor-in-chief Nina Willdorf replied to our inquiry only with: "Heading out of town. Can't talk. You can call me Monday.")
That's not exactly comforting, and as Rovzar notes wryly, "this is very sad — for readers, for employees, and for all of us — that people can't even afford to travel on a budget anymore." Flickr it is!
UPDATE: A statement from Frank J. De Maria, Vice President of Corporate Communications, refutes Rovzar's report, indicating that Budget Travel is, in fact, "not shutting down nor is it laying off staff.  It's business as usual at Budget Travel and we are currently working to produce the February issue and beyond. It's also important to note that we have a growing and engaged audience which, in this difficult economic climate, is no small feat." Encouraging!
Have a tip we should know? [email protected]