Steve Bannon Slams Journalist Who Questioned His Support for Tommy Robinson: 'You F**king Liberal Elite'
Steve Bannon reportedly launched a profanity-ridden tirade at a radio British journalist on Sunday. The journalist had questioned his support for Tommy Robinson, the co-founder of the far-right English Defense League.
During a radio interview conducted by UKIP leader Nigel Farage on his radio show and with LBC radio's political editor Theo Usherwood in the room, talk turned to the far-right political activist Robinson — whose real name is Stephen Christopher Yaxley-Lennon — and his politics.
"I don't think Tommy's a bad guy, I think he's a solid guy and he's got to be released from prison," Bannon said.
"But he broke the law!" Underwood replied as things got heated up.
Farage then chimed in to add, according to The Guardian, "I take the view as well that Tommy broke the law."
Afterward, Bannon apparently wasn't willing to let things go and confronted Underwood, saying to the political editor, "Fuck you. Don't you fucking say you're calling me out. You fucking liberal elite. Tommy Robinson is the backbone of this country."
Former  Breitbart London's Raheem Kassam, who was also there, did not deny Underwood's account of the events but insisted that the comments off-the-air were off the record, a point Underwood disputed.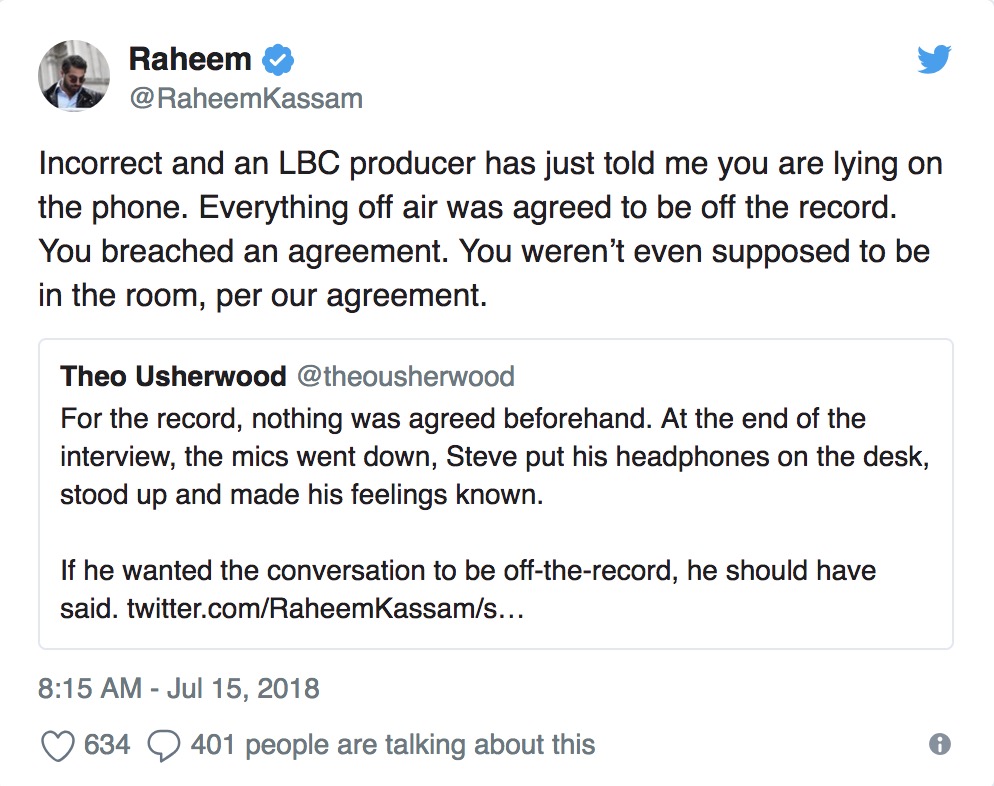 Bannon's comments come just one day after a #FreeTommy rally joined up with a pro-Trump rally on the streets of London. Violence ensued and 12 arrests were made.
[image via screengrab]
Have a tip we should know? tips@mediaite.com