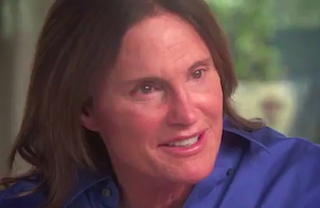 Ahead of Diane Sawyer's highly anticipated exclusive interview with Bruce Jenner set to air tomorrow night, ABC's World News Tonight with David Muir worked an extended plug of the special into Thursday night's broadcast. And it was notable that while the short promos released so far for the interview are devoid of pronouns, reporter Amy Robach repeatedly referred to Jenner as "he" and referenced "his" family.
While Jenner has never said it publicly, until presumably Friday night, the world is expecting that the big revelation in the ABC interview will be a gender transition from male to female. Jenner's apparent decision to become a transgender woman has been rumored for months and in the process some news organizations have attempted to avoid using pronouns of either gender to describe the reality star. (As you can see from some of the awkward language above, it is not always an easy thing to do).
But because the use of gendered pronouns is so often seen as offensive in the transgender community, one would think that ABC would strive to be sensitive to the issue. This is especially true since some will inevitably view the Jenner special as exploitative of the transgender experience.
In Robach's report, it is one thing for her to refer to Jenner as "he" when discussing the 1976 Olympic victories, or saying "his wife Kris" in reference to ex-wife Kris Kardashian. But it is another to refer to "the part of his life away from cameras" in the present tense. "He's a stepfather to four, father of six and like any dad, it's that family he worries about most," she says of Jenner's current life.
By contrast, previous promos like the one below leave out pronouns altogether, pointedly using as a catchphrase "the journey, the decisions, the future" as opposed to "his journey, his decisions, his future."
Of course, given the fact that Jenner has not actually revealed anything about the alleged transition, it is entirely possible that the former athlete has no problem with male pronouns. And we have not yet heard how Sawyer will refer to Jenner in the special.
Back in January, when Kim Kardashian first spoke out about the rumors, she did not hesitate to describe her step-father as "he" and "him." She told Entertainment Tonight:
"I will say that I think Bruce should tell his story his way. I think everyone goes through things in life, and I think that story and what Bruce is going through, I think he'll share whenever the time is right… I think Bruce is very happy, the happiest I've ever seen him."

He's our dad, so we support him no matter what. And I think when the time is right, he'll talk about whatever he wants to talk about. I guess I'll kind of let everyone be curious, and I feel like that's his journey to talk about."
The issue of when to use which pronouns is one that is very familiar to Jill Soloway, the creator of the Amazon series Transparent, which is based on the transition of her own father — or "moppa" as she says. Last fall, she told NPR how she started using plural pronouns instead of gendered ones.
"There are some people who identify as male, there are some people who identify as female, and there are some people who don't want to identify and want to still be able to be spoken about in a sentence, and 'they' and 'them' is perfect for that," she said. "It sounds plural to people immediately, but I think as this country begins to get used to the sound of 'they' and 'them' — it took me awhile, it took me a year to have 'they' or 'them' roll of the tongue, but it's just the way to speak about somebody where you don't want to gender them."
As ABC News demonstrated tonight, this country is not there yet. It would have sounded very awkward for Robach to say of Jenner, "They're a stepfather to four, father of six and like any dad, it's that family they worry about most." But it may have been more accurate.
Watch Thursday night's report below, via ABC News:
[Photo via screengrab]
— —
>> Follow Matt Wilstein (@TheMattWilstein) on Twitter
Have a tip we should know? tips@mediaite.com