After Grilling from Fox's Wallace, Walker Admits He's 'Changed' View on Immigration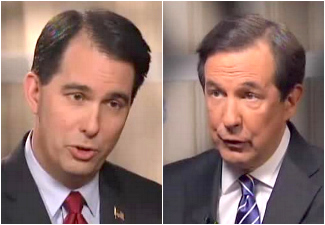 Fox News Sunday's Chris Wallace submitted newly-minted 2016 GOP frontrunner Scott Walker to thirteen minutes of sustained questioning about his record and his (mis)statements Sunday morning, the most notable moment of which came when Walker conceded after several minutes of interrogation that he'd "changed" his views on immigration.
Wallace played a clip of a younger Walker as Milwaukee County Executive happily agreeing to what certain portions of the right now calls "amnesty."
"I believe there's a way that you can do that," Walker said, citing the preeminent need for border security. "I'm not talking about amnesty."
"But it's a little bit slippery here," Wallace said, citing Walker's record of supporting immigration reform. "You said you supported it."
"And my view has changed," Walker said. "I'm flat out saying it. A candidate can say that. Sometimes they don't….I look at the problems we've experienced the last few years. I've talked to governors on the border and others out there. The concerns I have are we need to secure the border. We ultimately need to put in a legal immigration system that works. And part of doing that is putting the onus on employers. I don't think you do it through amnesty."
Wallace brought up one of Walker's many recent media to-dos, in which he wouldn't quite say whether Obama loved America after former Gotham mayor Rudy Giuliani intimated as much at a Walker event.
"The conventional wisdom is, either you're pandering to the Obama-haters, or you're not ready for prime time," Wallace said. "Which is it?"
"Neither," Walker said. "I'm not gonna take the manufactured media crises and follow that path instead of going the path Americans want: leaders who will stand up and tell the them where they stand on the issues that matter to them."
"The mayor wasn't speaking on my behalf, he happened to show up halfway through an event we were holding that night," he added. He then conceded: "Any person who is willing to put their name on the ballot has to have a love for their country and their state and their jurisdiction. I don't contest that for anyone out there."
Walker also rebutted claims he was gutting the university system by arguing the same charges had been leveled at him when he took on public schools four years ago, reforms he said had improved the system. "They said it was going to lead to doom and gloom," Walker said. "We believe it's not about austerity, it's about reform."
Watch the clip below, via Fox News:
[Image via screengrab]
——
>> Follow Evan McMurry (@evanmcmurry) on Twitter
Have a tip we should know? tips@mediaite.com