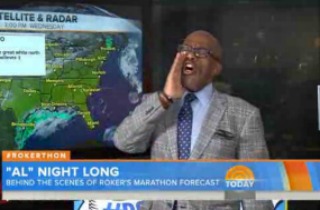 NBC weatherman Al Roker is trying to set a record for the longest uninterrupted weather report in history, and he plans on continuing for 34 hours straight. Roker started at 10:00 p.m. last night, and apparently some interesting things happened overnight.
If you were watching the livestream overnight, you might have noticed — aside from Roker's usual banter — a particularly odd occurrence when he took a break to use the bathroom.
Per Today.com:
The evening's most memorable moment came when Al took his first bathroom break — with his microphone streaming sound to viewers. Al's take on the moment: "Live stream has a new meaning."
TMI, Al. TMI.
A few Twitter users also picked up on Roker's "oops" moment:
Tuned into see @alroker ,seems like the mic was still on while in the bathroom, ops. It happens, but u go Al, break that record! #rokerthon

— Jonathan Gomez (@JsModernLife) November 13, 2014
al roker left his mic on in the bathroom and I haven't stopped laughing

— 1daf (@zedkilam) November 13, 2014
seriously I'm laughing so hard I just heard Al Roker go to the bathroom #rokerthon

— #miredon (@turtlepancakezz) November 13, 2014
Well, @alroker don't forget to turn your lav mic off when you use the bathroom! #rokerthon @TODAYshow thanks for the weather!

— Marin Austin (@marinaustin) November 13, 2014
Uhhh Al Roker is in the bathroom and his microphone is definitely not off. #Rokerthon

— Jeremy Cohn (@JeremyGlobalTV) November 13, 2014
21 hours to go, Al! But even if you can't get through all 34 hours, it probably won't be as embarrassing as this was.
Watch a roundup of the overnight nuttiness below, via NBC:
Visit NBCNews.com for breaking news, world news, and news about the economy
You can watch the ongoing livestream below:
[h/t Washington Post]
[Image via screengrab]
— —
>>Follow Andrew Desiderio (@forza_desiderio) on Twitter
[Note: Mediaite intern Andrew Desiderio is a student at The George Washington University.]
Have a tip we should know? tips@mediaite.com