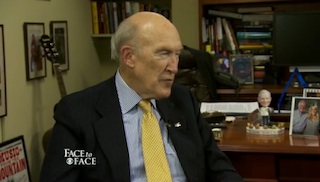 At the start of this week's Face to Face (the online-only segment of CBS' Face the Nation), Bob Schieffer states that former Senator Alan Simpson has always been one of his favorite people to cover. And why wouldn't he be if this is how candid he can get in interviews? Simpson easily lived up to the title of the book he was there to promote, Shooting from the Lip, as he very bluntly explained his problems with Rick Santorum as a nominee.
Simpson, noting that he is now a "Romney-man," attacked Santorum's views on homosexuality in particular. He called the candidate "rigid" and "homophobic" and brought up Santorum's infamous comparison of homosexuality and bestiality, saying that, to him, that comment was "startling and borders on disgust." He also brought up Santorum's claim that he would create a Constitutional amendment banning gay marriage and then nullify all the marriages that had already been done. Asked Simpson, "What's human or kind about that?"
The former Republican Senator from Wyoming made it very clear that he feels his party needs to move away from social issues:
"I am convinced that if you get into these social issues and just stay in there about abortion and homosexuality and even mental health they bring up, somehow they're going to take us all to Alaska and float us out in the Bering Sea or something. Here's a party that believes in getting government out of your life, the precious right of privacy, and the right to be left alone. How then can they be in the hypocrisy of fiddling around with these social issues? We won't have a prayer."
Simpson also told a story about how his grandfather once shot a banker's ear for bouncing a check and later shot a guy dead on Main Street.
Man, Schieffer's right. Who wouldn't want to cover a guy like this?
Watch the clip from CBS below:
(h/t Huffington Post)
Have a tip we should know? tips@mediaite.com