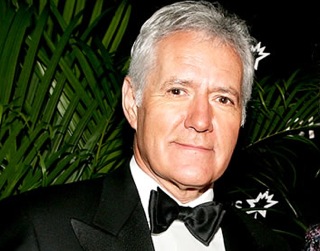 There are very few things Jeopardy! host Alex Trebek could add to his resume that would make him even more beloved in the eyes of Americans, and yet he has outdone himself– this weekend, Trebek embarked on some hardcore crime-fighting, and while he tore his Achilles tendon, the culprit who broke into his hotel room and stole some money and jewelry was nearly immediately caught.
Here is the TMZ version of the story, reproduced below because it is the most entertaining one:
Answer: This 71-year-old game show host snapped his Achilles tendon while chasing a criminal through a San Francisco hotel this morning.

Question: Who is Alex "DESTROYER OF EVIL" Trebek!!!!!!!!!!!?!?!?!?!!? [Ed. note: this used to say something like "MOTHERF*****" in the quotes there, but it was gone when we refreshed the page.]

Trebek — perhaps the greatest Canadian who ever lived — crutched his way into the National Geographic World Championship at Google headquarters in CA today and explained he was trying to catch a burglar when the injury occurred.
Trebek says he's feeling OK.
It's unclear if the suspect was ever captured … or what he allegedly stole … but we're willing to wager that Alex won't rest until JUSTICE is served!!!!
Trebek's injury will have him on crutches for several weeks, though he will continue to host Jeopardy! throughout the injury.He is expected to have surgery on his heel on Friday. Meanwhile, thanks to a detailed description Trebek gave the police, one Lucinda Moyers was immediately apprehended as the burglar, though a family heirloom– his mother's bracelet– is still missing. The event happened in a San Francisco hotel at around 2:30 AM on Friday, where Trebek was staying for a convention.
Local San Francisco station ABC7 covered the 71-year-old's amazing crime-fighting caper tonight– watch their recap below:

Have a tip we should know? tips@mediaite.com