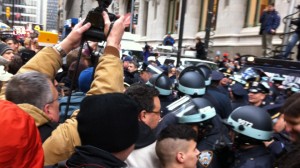 Occupy Wall Street was undeniably one of the biggest news stories of 2011. The movement was an important factor in "The Protestor" being named Time Magazine's 2011 Person of the Year. Well, the Occupiers are finally getting recognized by another important institution. Yes, that's right. The American Dialect Society has announced that "occupy" is 2011's word of the year because of its influence on the global zeitgeist over the past few months.
RELATED: Whether Permit Is Approved Or Not, 'Occupy Congress' Will Still Happen On National Mall In January
The final decision came after members gathered at an annual conference in Portland, where they took a vote to decide which word would be THE defining word of 2011. And there were certainly a great deal of captivating words to choose from.
"Occupy" won a runoff vote by a whopping majority, earning more votes than "FOMO" (an acronym for "Fear of Missing Out," describing anxiety over being inundated by the information on social media) and "the 99%," (those held to be at a financial or political disadvantage to the top moneymakers, the one-percenters).
After the vote was tallied, the chair of the organization's New Words Committee acknowledged that "occupy" is "a very old word, but over the course of just a few months it took on another life and moved in new and unexpected directions, thanks to a national and global movement." There were a great deal of words considered by the committee in a variety of categories, some more eyebrow-raising than others. For example, both "Tebowing" and "9-9-9" were nominated as words of the year, but they pale in comparison to more outlandish terms submitted like Charlie Sheen's infamous "bi-winning."
Recognized in the "Most Creative" category was the word "kardash," defined as a unit of time lasting as long as Kim Kardashian's wedding. And one of the most outrageous submissions (because of its recognition in the "Most Outrageous" category) was the word "deather," used to describe those who do not believe the official story of the death of Osama bin Laden.
h/t CNN
Have a tip we should know? [email protected]
Josh Feldman - Senior Editor