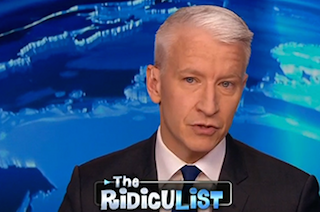 Last week, Ellen DeGeneres decided to publicly respond to a pastor who had used her as an example of the media's "gay agenda" in an op-ed for the Christian Post. Another gay entertainer referenced by Larry Tomczak in that piece was CNN's Anderson Cooper.
For his "Ridiculist" segment Monday night, Cooper attempted to set the pastor straight, so to speak. "I've never actually been to the secret meeting where the gays plot their agenda, though I imagine the catering is quite amazing," he said. "But thanks to someone named Larry Tomczak, my eyes have been opened."
In his piece, Tomczak said that Cooper is "promoting homosexuality" by boasting "openly on TV he'd rather 'have sex' with a man" and co-hosting the network's New Year's Eve coverage with Kathy Griffin.
"Now, I don't know what a 'gay lifestyle' is, just like I don't know what a straight lifestyle is," Cooper said, adding that people of all sexual orientations "just want to be able to live their lives with the same kinds of rights and responsibilities as everyone else."
On Tomczak's suggestion that parents show their children I Love Lucy instead of modern programming, Cooper joked, "I grew up watching I Love Lucy and I'm as straight as they come."
"Those were the good old days when gay people could be arrested for going to a bar or fired from their jobs — which, actually, they still can in many states — and live life largely in the shadows," Cooper said of the 1950s. "Good times."
Or, he suggested, Tomczak could watch TLC's My Husband's Not Gay, in which a gay man says he wanted to marry a woman so he could be called "Daddy."
"If you're a gay guy who wants to be called 'Daddy' you don't necessarily have to be married to a woman," Cooper pointed out. "I'm just sayin'."
Watch video below, via CNN:
[h/t Towle Road]
[Photo via screengrab]
— —
>> Follow Matt Wilstein (@TheMattWilstein) on Twitter
Have a tip we should know? tips@mediaite.com