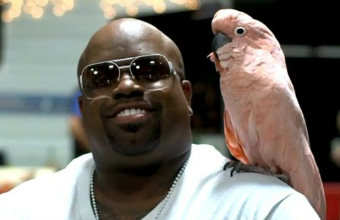 Singer/producer Cee Lo Green became known for holding his fluffy white cat Purrfect (just because) throughout the previous season of NBC's The Voice, and recently announced plans to swap out the cat for a pink moluccan cockatoo he named Lady in the upcoming season of the reality talent show. Unsurprisingly, the eclectic singer has taken heat for this decision from animal rights organizations like Born Free, who condemn Green for using an endangered animal that has a tendency for "self-mutilation" when not in the wild.
"Moluccan cockatoos are beautiful, intelligent animals but they are very challenging to care for especially in the long term, and are prone to considerable welfare problems," Born Free's spokeswoman told TMZ. "Many Moluccan cockatoos develop self-destructive behavior including feather plucking and self mutilation not known to occur in the wild."
I wouldn't be surprised if this cockatoo developed self-mutilating behavior on The Voice not only because of the whole not-in-the-wild thing, but also because she would be subjected to the mediocrity of the show's singers, and the insufferable bro-isms of Green's fellow judge Adam Levine.
"Many parrot rescues are already filled to capacity with moluccans and other large parrots," the Born Free spokeswoman continued. "I encourage The Voice to reconsider featuring a moluccan cockatoo or any bird as a 'pet' on the show and instead promote a more appropriate companion animal such as a dog. Even better, they could feature a rescue dog or a dog in need of a home."
– RELATED: FBN's Definition Of Business News: Cee Lo Green And Fancy Hats?
No word yet on whether Green will take the request seriously. But upon learning that Green says he met the bird "flying around in a fantasy of mine," and that she "sometimes whispers inappropriateness in my ear," I'd say all bets are off.
(H/T TMZ)
>> Follow Andrew Kirell (@AndrewKirell) on Twitter

Have a tip we should know? tips@mediaite.com