Baltimore Councilman: Why Are Protesters 'Thugs' But Not Cops Implicated in Gray Death?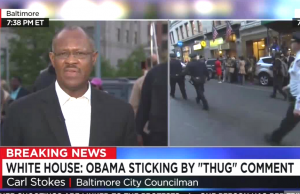 CNN's Erin Burnett faced off again tonight with Baltimore councilman Carl Stokes over whether "thug" is too racially-charged a word to describe the violent Baltimore protesters. Stokes argued last night it was basically racial code and the more honest word might be "n*gger," which he dropped live on the air.
So what was the first thing Burnett did when Stokes returned to her show tonight for round two? Read the dictionary definition of the word "thug."
No, seriously, that's actually what she did.
After that, Stokes pointed out that when white college students caused mayhem, started fires, and got physical with cops after some kind of sports victory or loss or whatever, "we didn't refer to them as thugs, we called them college students."
RELATED: Ashleigh Banfield Confronts Councilman: I Was 'Livid' When You Used 'N-Word' on CNN
Burnett retorted that the behavior from those students sounds thuggish too, and even played a montage of President Obama using the word "thug" in reference to bad actors in foreign nations to bolster her point. Stokes asked, then, why the protesters should be considered thugs but "the people who are responsible for Freddie Gray's death are not."
Stokes and Burnett clashed after Burnett said they shouldn't be drawing any unfair conclusions about the Baltimore cops before the facts come in.
Watch the video below, via CNN:
And you can watch their face-off yesterday here, also via CNN:
[image via screengrab]
— —
Follow Josh Feldman on Twitter: @feldmaniac
Have a tip we should know? tips@mediaite.com
Josh Feldman - Senior Editor