Beck Defends Palin's Paul Revere Story, Claims Historians Are Lying For Political Reasons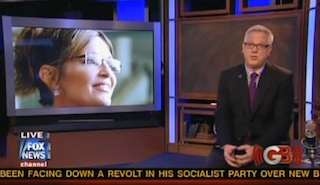 Today on Glenn Beck, Beck continued teaching American history in ways modern Americans can understand. It was the second day in an ongoing series of his recently that coincides with the release of disturbing history test scores from our country's youth as well as the release of his new book which is coincidentally about teaching American history in ways modern Americans can understand. This episode opened with him defending his old friend Sarah Palin from claims that she really screwed up the story of Paul Revere. Sure, that's kind of an old story at this point, but Beck had an interesting spin on it; apparently all of our historians are lying to us for political reasons.
"One historian, even with the matching letter [of Paul Revere's account] and Sarah Palin's comments, then went on to not only discredit her but say that wasn't even sure that Paul Revere was telling the truth. So the historians put you in the position to where they're saying, for political reasons, 'No, no. You can't listen to even the guy who wrote the letter, the guy who the story is about, Paul Revere. You've gotta listen to us. We know better.' They're so desperate to mock and trash for political purposes that they are willing to distort and ignore historical facts for political gain."
Ah! First we can't trust scientists on climate change and now we can't trust historians on history! Why are all the learned people in this country lying to us! All their lies are making it so people can no longer trust experts. But why would anyone want to do that? As Beck says, once you lie to people enough so that they can't trust history, you can make them believe whatever you want. It's horrible! Thank God the truth lives here.
Beck also explained how Michele Bachmann was never actually wrong about slavery and how historians are just lying to our kids so they'll throw out the Constitution, become Progressives, and buy Che Guevara t-shirts.
Why won't anyone ever learn? Trying to change history is wrong, wrong, wrong. Man, I hate those damn, dirty Progressives.
Watch the clip from Fox News below:
Have a tip we should know? tips@mediaite.com