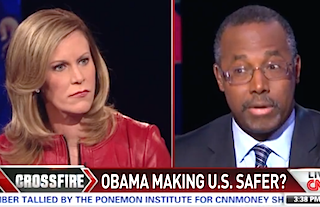 It's been more than two months since Dr. Ben Carson first said that America is "very much like Nazi Germany," and he's still having trouble clarifying exactly what it is he meant. During an appearance on CNN's Crossfire Wednesday, host Stephanie Cutter brought up the remark and asked Carson to explain it for her.
"To me, it doesn't sound like a complex statement at all," Carson said, before reiterating his original comments. "People in Nazi Germany, most of them did not believe in what Hitler was doing. But, instead of protesting, instead of registering their displeasure, they simply decided to go along to get along. That is a very dangerous thing to do."
He said was simply "making a point to the American people that if, in fact, you feel differently about what's going on, you should not be shut up."
RELATED: Ben Carson Battles Roland Martin over Race and His Nazi Comparison
Carson's ideologically opposed counterpart, former governor Ted Strickland (D-OH) shot back, "No is being shut up in America!" As an example, he pointed to Carson himself, who has the freedom to say whatever he wants in his role as a contributor on Fox News.
Strickland saw a contradiction in the fact that Carson could compare the United States to Nazi Germany and also write a book titled America the Beautiful
.
"Did you read the book?" Carson asked. When Strickland said he hadn't, the doctor replied, "I rest my case."
Watch video below, via CNN:
And you can watch Carson's original comments below, via Breitbart TV:
[Photo via screengrab]
— —
>> Follow Matt Wilstein (@TheMattWilstein) on Twitter
Have a tip we should know? [email protected]