Ben Shapiro Blames Hollywood, Gives 'My First Rifle' Marketers A Pass On Piers Morgan Live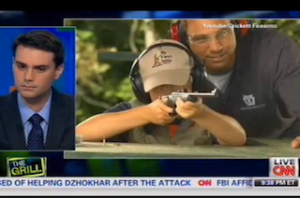 Shortly after MSNBC's Chris Hayes decried the "The Sickness" of marketing rifles to children that led to the shooting death of a Kentucky two year-old by her five year-old brother this week, Piers Morgan welcomed Breitbart.com's Ben Shapiro on his CNN show to see if he could get the young, outspoken conservative to defend a corporation that pushes "My First Rifle" on kindergarteners.
After playing a clip of the advertisement for the "Crickett" rifle, Morgan told Shapiro, "I thought this was a spoof, I really did. I cannot believe this is genuinely deliberate targeted advertising and marketing to give 5-year-olds rifles."
Shapiro insisted that the marketing for these products is "targeted at the parents," who he does believe are making "bad decisions" by giving their 5-year-olds rifles. But he would not condemn the company that produces the ad, instead pointing to the "broader" problem of Hollywood violence. "If we're going to go to any kind of cultural implement that encourages kids to own guns," Shaprio said, "then we're going to have to go straight to Hollywood and I'm not sure that people want to go there. Most people that want to own guns do so because they watch Die Hard or a movie with guns."
Shapiro may be right that there are some adults who watch action movies or play violent video games and then think it might be cool to own a gun themselves, though most sane people can tell the difference between the visceral thrill of entertainment and real life violence. But there is a huge distinction to be made between violent, R-rated movies, intended to be seen by adults over 17, featuring fake guns and ads clearly targeted at young children selling real ones.
And while it may be the parents who actually make the purchase, anyone who has ever watched television aimed at children knows that ads for toys are designed to cause the child to ask their parent (repeatedly) for the product they've seen on screen. When the younger boy in the Crickett ad tells his older friend, "I wish I had one," it's as if the company is telling kids, "here are the words you should say to your parents."
When Morgan asked Shapiro flat-out if advertising guns to kids should be banned, he hedged, admitting there's an "argument to made in favor of that," but he certainly wasn't going to be the one to make it. He pointed to "liability laws" as a solution that's already in place, allowing parents to sue if they believe the advertising was false in some way. The Crickett ads don't explicitly say that a 5-year-old can shoot and kill his 2-year-old sister with their product, but they also don't say that can't happen. While lots of "toys" have choking hazard or other warnings, at least they are not designed with lethal capability in mind.
Watch video below, via CNN:
—
>> Follow Matt Wilstein (@TheMattWilstein) on Twitter
Have a tip we should know? tips@mediaite.com