Bill Maher Opens Panel Discussion With Study Suggesting Social Conservatives Have Lower IQs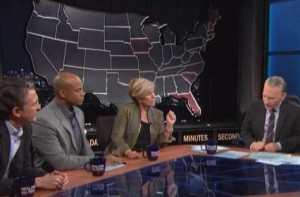 You can't get much more controversial in the world of American politics when you bring up the link between personal philosophies, intelligence, and prejudice. But that's exactly what happened earlier this week when a study found that low intelligence is connected to prejudice and social conservatism. On his show tonight, Bill Maher read the findings of the study and did not make any kind of strong editorial opinion on the subject, stating that he was "agnostic" about the results.
RELATED: Bill Maher On Palin: "Anybody Could Be President In This Dumb F*ckin' Country"
Former Republican Congressman Rick Lazio looked just a bit awkward reacting to Maher reading off the study, even when Rolling Stone writer Michael Hastings said that having been following the GOP primaries, he "already agree[s] with that study." However, rather than focusing on the more uncomfortable topic of "are conservatives dumber than liberals?", a subject matter which, let's face it, would not necessarily be a controversial topic for this show, Maher and the panel shifted the discussion to more of an overall look on the education system in America.
The discussion touched upon everything from how much the United States is spending on education to the responsibilities of parents to provide children with good opportunities and make sure teachers are held accountable. It was surprisingly level-headed for an episode of Real Time, and amidst all the serious talk, any mention of the controversial study was lost.
Watch the clip below, courtesy of HBO:
Have a tip we should know? tips@mediaite.com
Josh Feldman - Senior Editor