Bill O'Reilly And Kirsten Powers Clash Over Whether Nation Is Suffering A 'Lack Of Respect Epidemic'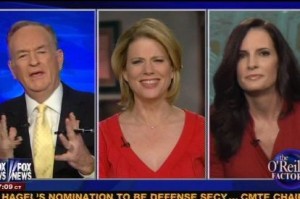 Earlier this week a Florida teenager was acting disrespectful towards a judge, to which the judge doubled the price of her bond and sentenced her to 30 days in prison after she shouted profanities at him. Bill O'Reilly took this one instance of a rude teenager to bemoan a "lack of respect epidemic" in the United States. He and panelist Kate Obenshain squared off with Kirsten Powers over the staggering rudeness running rampant in society and in classrooms all across the country.
RELATED: 'Did You Say 'F**k Me?' Judge Sentences Florida Teen To 30 Days In Jail For Cursing At Him
O'Reilly sympathized with the Florida judge, saying he was clearly fed up with an atmosphere where people feel they can get away with anything. O'Reilly blamed the public school system, and New York schools in particular, for softening their discipline codes and letting children get away with telling off teachers in the classroom.
O'Reilly asked Powers what she would have done if she were the judge. Powers doubted that what the judge did was not legal and it will likely be reversed because "he's not the king, he's the judge." She found it stunning that anyone would get sentenced to 30 days in prison merely for being disrespectful. She said if she were in the judge's shoes, she would have just ignored the rude teenager since, as Powers argued, being rude is not the same as being in contempt.
Obenshain disagreed, saying that getting disciplined was the "best thing that's ever happened" to the Florida teenager. She said more people need to understand the consequences of their actions and in the classroom educators just "shrug their shoulders" and don't do anything. Powers pushed back against O'Reilly and Obenshain trying to connect the one isolated Florida case with schools all over the country.
O'Reilly told Powers it is "insane" for teachers not to discipline students for being outright obnoxious, adding that if he were the judge, he would have sentenced the teenager to two weeks in prison and community service. Powers argued that the bigger fault in this "rudeness" epidemic lies with parents, not with judges and teachers.
Watch the video below, courtesy of Fox News:
—–
Follow Josh Feldman on Twitter: @feldmaniac
Have a tip we should know? tips@mediaite.com
Josh Feldman - Senior Editor