Bill O'Reilly Kicks Off Crusade Against The War On Easter, Laura Ingraham Warns Of 'New Era Of Persecution'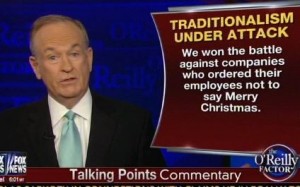 Because Christmas is a long nine months away, Bill O'Reilly has taken up the mantle of leading the army of traditionalists in another religious conflict: the War on Easter. Yes, a number of school districts are holding Easter events but have banned the word "Easter," which led O'Reilly down a slippery slope that ended with free abortions and pot everywhere. Laura Ingraham agreed with O'Reilly about the growing secular influence in the United States, saying that there very well be a "new era of persecution" in the United States.
RELATED: Bill O'Reilly Bashes The 'Secular Clown Posse' For Trying To Impose Values On The Rest Of Society
O'Reilly mocked the "spring egg events moderated by a spring bunny," calling the whole thing stupid, but arguing that it is just the first step of how secular-progressives are trying to impose their will on the rest of society. He said that if the secular-progressives had their way, anyone could get an abortion for any reason, you could be arrested for saying negative things about minorities, and pot would be legal.
Ingraham agreed with O'Reilly that society has become a lot more secular, adding that religious people probably recognize this and worry about a "new era of persecution" in the United States. O'Reilly declared that 50 years ago, there would have been marches on those schools, faulting traditionalists for being "afraid" of attacks from secular-progressives.
Ingraham concluded the segment by warning of the consequences of traditionally religious people receding from public life, saying that if they did, the United States would become "poorer and weaker and less influential in the world."
Watch the video below, courtesy of Fox News:
—–
Follow Josh Feldman on Twitter: @feldmaniac
Have a tip we should know? tips@mediaite.com
Josh Feldman - Senior Editor