Bill O'Reilly Reacts To D.C. Video Ambush: 'I Felt The Guy Was Out Of Control'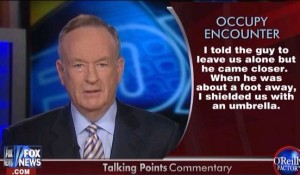 Thursday night, Bill O'Reilly offered his reaction to being followed last night in DC by a man who repeatedly asked him whether he had attended a fundraiser for GOP presidential hopeful and former Fox News contributor Newt Gingrich that night.
RELATED: Bill O'Reilly Gets Ambushed In DC, Though Not At Gingrich Fundraiser As Reported
O'Reilly told viewers that he had been "walking to the White House for an annual media party," when a man ran up behind him and "began screaming," ignoring O'Reilly's pleas to leave him alone. When the man was about a foot away, the Fox News host attempted to use his umbrella as a shield.
Here, for reference, is the video from last night:
O'Reilly continued, recounting how a Secret Service agent stopped the man, discovering that he was an Occupy DC protester. O'Reilly asked the agent to call police because "I felt the guy was out of control." The man could not be arrested, according to the officers who arrived on the scene, because he hasn't actually physically touched O'Reilly.
The host added that, if the man had identified himself, he would have stopped and talked to him, maybe even invited him onto The Factor, but that, since he didn't know who the man is or whether or not he was carrying a weapon, he tried to, essentially, protect himself from a meddling, threatening stranger.
To discuss things further, O'Reilly brought on former DC police detective Trevor Hewick. "The police misinterpreted the law," he said, "because you don't have to have a physical contact or an injury to arrest somebody for simple assault." When asked why the lieutenant may not have taken further action, Hewick guessed that he probably was trying to be "politically correct."
Have a look at the segment, via Fox News:
Have a tip we should know? tips@mediaite.com