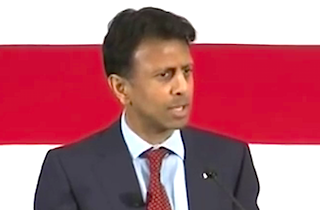 During a speech to conservative supporters in New Hampshire this weekend, potential Republican presidential candidate Gov. Bobby Jindal (R-LA) pulled a belated April Fools' Day prank on his audience, beginning his speech with talking points that sounded like they might be coming from someone else's playbook.
"I want to talk to you about the need for fairness in our tax code system," Jindal began. "I want to talk to you about the need for the successful to pay more in taxes to the government."
"I want to talk to you about what a great success that President Obama has done in the Middle East, this historic agreement he's negotiated with Iran," he continued, as the crowd began to laugh at the apparent irony of this statement. "And I want to talk to you about my grandparents who immigrated — I'm sorry, I've got the wrong notes. This is Hillary Clinton's speech, I'm sorry, this isn't my speech."
That last bit was an implicit reference to Hillary Clinton's reported exaggeration about the number of her grandparents who immigrated to America. While she has said "all" of her grandparents were born outside of the country and came the U.S. as children, BuzzFeed's Andrew Kaczynski discovered that, in fact, only her paternal grandfather did.
As someone whose parents both immigrated to the United States from India just six months before he was born, Jindal obviously felt the need to correct the record and, in the process, emphasize his own immigrant story.
The governor also called out Clinton's grandparent problem in a fundraising email to his American Future Project PAC.
"You may have seen in the news that Hillary Clinton just got caught making up another story to try to be 'relatable' to everyday Americans," Jindal wrote. "This time she tried to claim her grandparents were immigrants when it turns out all but one were not. As someone who really is the son of two immigrant parents, I know first-hand the true promise of America."
Watch video below, via C-SPAN:
[Photo via screengrab]
— —
>> Follow Matt Wilstein (@TheMattWilstein) on Twitter
Have a tip we should know? tips@mediaite.com