Jon Huntsman Won't Kiss Donald Trump's Ring, Or 'Any Other Part Of His Anatomy'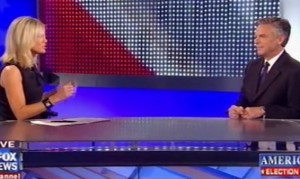 Donald Trump is the media gift that keeps on giving, but on Fox News' America's Newsroom this morning, former Utah Gov. Jon Huntsman gift-wrapped an unfortunate visual, telling anchor Martha McCallum that he's "not going to kiss his (Trump's) ring, and I'm not going to kiss any other part of his anatomy."
Huntsman was responding to the claim that The Donald ducked Huntsman's request for an audience, and while he earned a "Good line!" from Bill Hemmer, Mr. Huntsman didn't deny making that call.
McCallum began by reading quotes from Trump that included the assessment that Gov. Huntsman "has no chance of winning, anyway," which isn't quite true. Huntsman is polling fourth in New Hampshire, and just secured a one-on-one Lincoln-Douglas style debate with frontrunner Newt Gingrich. Should NH leader Mitt Romney continue to slide, and if Gingrich follows the trajectory of previous Republican frontrunners, Huntsman is well-positioned to take advantage.
RELATED: Jon Huntsman Campaign Scores Lincoln-Douglas Style Debate With Newt Gingrich
In accepting former House Speaker Gingrich's invitation to debate, Huntsman's campaign also lashed out at the upcoming Donald Trump/Newsmax debate, which Ron Paul has also declined to attend (Newt Gingrich is in, though), saying "…we have declined to participate in the 'Presidential Apprentice' Debate with The Donald. The Republican Party deserves a serious discussion of the issues so voters can choose a leader they trust to defeat President Obama and turn our economy around."
Huntsman went on to echo those sentiments on Fox News this morning, telling McCallum, "If he had any courage at all, he would be running for the presidency of the United States of America, as opposed to manipulating the issues from the outside."
"The presidency of the United States of America," Hunstman continued, "is more important than the silly game shows and reality shows."
RELATED: Republican Candidates Of Substance Should Sit Out Trump Moderated GOP Debate
Although Huntsman didn't deny calling The Donald, it's entirely possible he was just checking to find out if Trump is ready to share what his team of investigators turned up in Hawaii. Either way, as our Managing Editor pointed out, whoever does or does not show up to be grilled by this clown will say a lot about those individuals.
Here's the clip, from Fox News:
Have a tip we should know? tips@mediaite.com