'BRAVE': Tucker Carlson Interviews College Kid Whose Peers Photoshopped His Face on a Cracker
As bombshell breaking news fell from the sky like Seattle rainfall on Wednesday evening, Fox News' Tucker Carlson had a special guest on his primetime show: Ryan Wolfe, a student at Wake Forest University, who tried to press charges against fellow students who photoshopped his face onto a cracker.
Wolfe told Tucker that during the 2016 election he participated in a panel talk hosted by his school's College Republicans, and that his presence at the event led to messages on social media "trying to intimidate" him.
"And then after the event, I was handed a box of saltine crackers, and in a group chat during the event a student photoshopped my face onto a cracker."
The photo was then prominently displayed on Carlson's show: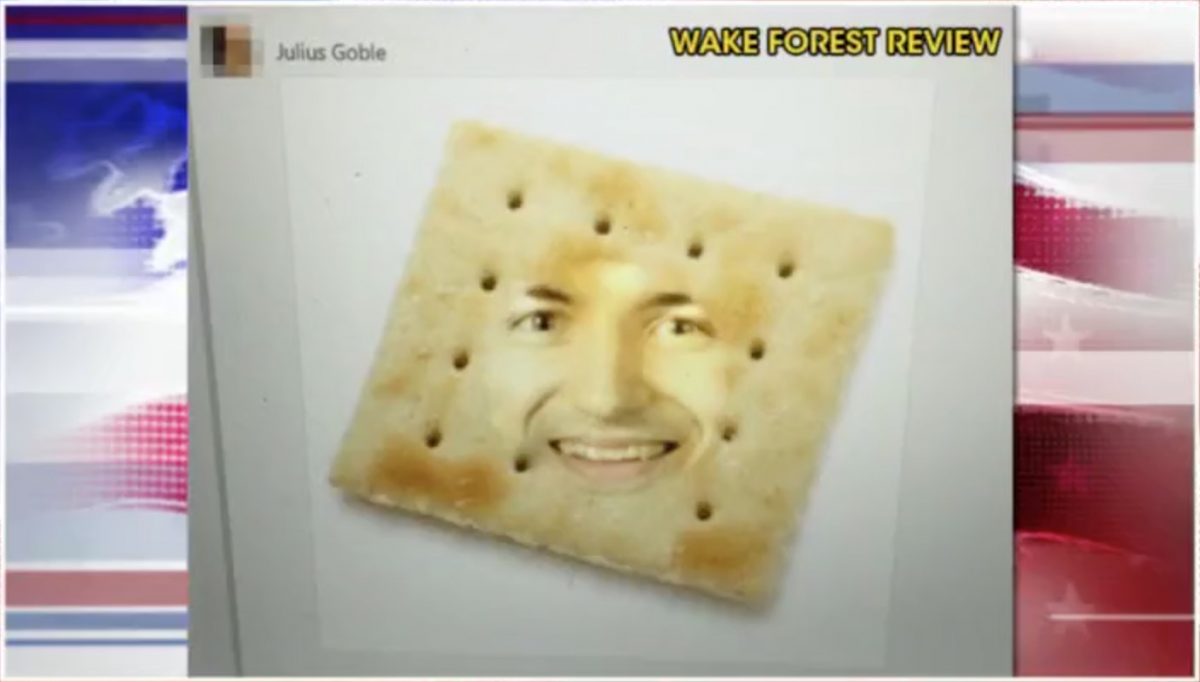 "I assume that's a slur against your ethnicity, correct?" Carlson asked.
"Yes, that's how it was intended, absolutely," Wolfe replied.
The targeted student went on to note that his school has "pretty strict rules about harassment," and even noted that former MSNBC host Melissa Harris-Perry — now a professor at Wake Forest — told him to report the abuse.
Wolfe said he asked to press charges through a school judicial case against the students who offered him the saltines and photoshopped his face onto a cracker — before being told by the Dean of students that "President Trump's election somehow justified their behavior."
"I just want to make sure I'm not mischaracterizing this," a confounded Carlson said, before asking: "[the dean] said the president's election somehow justifies this attack on you?"
When Wolfe confirmed, Tucker replied: "I don't even know what to say."
Wolfe went on to note that while he opposes the strict anti-harassment rules at the school, he takes issue with the double standard in how the harassment rules of the school are enforced.
"Ryan, I really appreciate how brave you are to come on, and how clearly you expressed that," Tucker said. "In a way you're a credit to Wake Forest, because you're impressive. But the school is obviously not living up to its own standards."
Watch above, via Fox News.
[image via screengrab]
—
Follow Aidan McLaughlin (@aidnmclaughlin) on Twitter
Have a tip we should know? tips@mediaite.com
Aidan McLaughlin - Editor in Chief