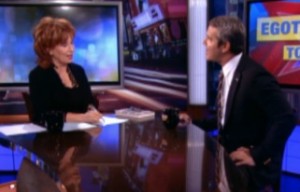 On Monday night's edition of Current TV's Joy Behar: Say Anything!, Bravo executive and TV host Andy Cohen was offered the choice to "marry, shag, or kill" a selection of conservative figures, and volunteered to host Joy Behar that he would "hate-shag" former Pennsylvania Senator Rick Santorum, and, egged on by Behar, added "It would be very upsetting for Mr. Santorum, yes."
Cohen gave no details on how he would kill Rush Limbaugh, but said he and new husband Rep. Paul Ryan would "have a lovely life together with his droopy eyes and his abs."
Behar broke the ice with a clip of Cohen playing "Marry, Shag or Kill" (a parlor game which became popular, I believe, on the Facebook) with actress Meryl Streep, then said to Cohen, "Let's play the game for a second–Marry, Shag or Kill. Okay, these are the names. And I know it's hard: Rick Santorum, Paul Ryan and Rush Limbaugh."
"Oh My God,"Cohen replied, "Kill Rush, no question. Oh, wait. It's Santorum or Paul Ryan? Oy. I think I would marry Ryan…"
Joy chimed in "Hold your nose…"
"And then I would hate-shag Santorum," said Cohen, adding that "It would be nasty."
"It would be nasty," Behar agreed. "It would be like S&M-ish with just the 'S.' It would just be like killing him."
"It would be very upsetting for Mr. Santorum, yes," Cohen allowed, "But Paul Ryan and I would have a lovely life together with his droopy eyes and his abs."
"Well, he's cute if you like that "Village of the Damned" look but he does have those blue eyes that are kind of weird," assessed Behar.
"He's got big, blue eyes–they pop," Cohen said. "I would makeover his wardrobe. We would have a nice life together."
Couple of quick things here. First of all, I know this is basic cable, but 1996 called, they want 1965's slang back. Sometimes, if you can't say "f*ck," it's just not worth it.
Second, the obvious choice here would seem to be to marry Rick Santorum, if for no other reason than to make him go to the store for paper towels.
Finally, and most importantly, can we put the term "hate-f*cking" to permanent rest? What was once shorthand for a legitimate form of sexual chemistry in which desire overcomes, and is even enhanced by, interpersonal differences has become simply a way to demean people we don't like using sexual violence. There's usually a semantic nod to consent, but what's really being described here is rape, and no matter how you feel about Rick Santorum, that's wrong.
Have a tip we should know? tips@mediaite.com