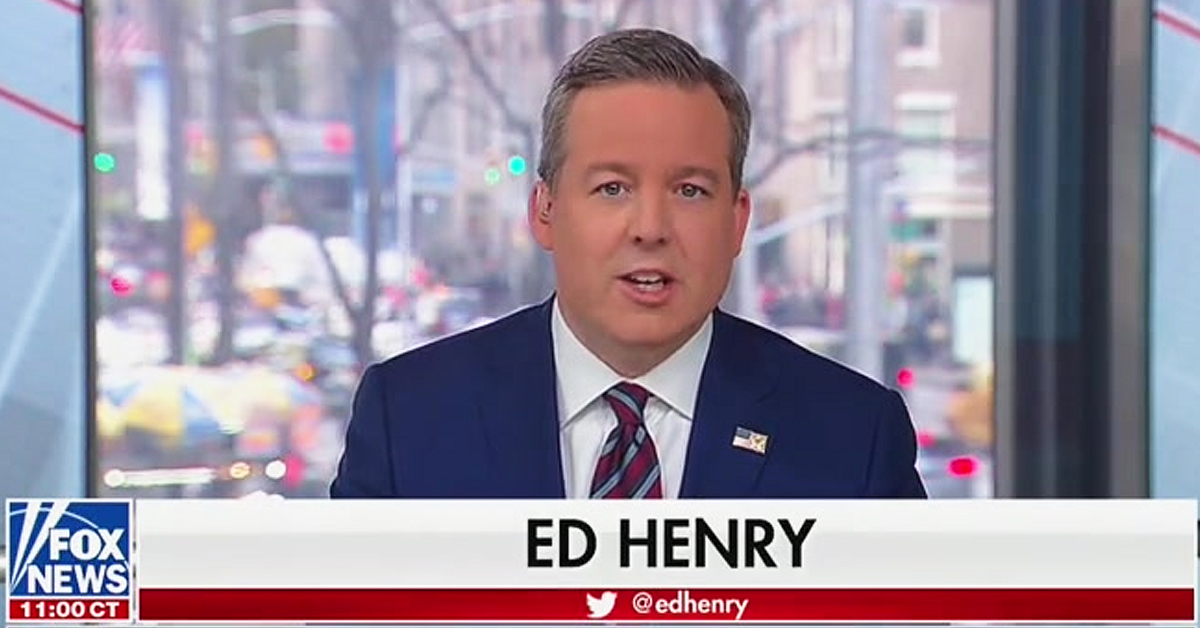 Fox News has fired anchor Ed Henry following a sexual misconduct allegation by a former network staffer.
According to an internal memo sent to staff by Fox News Media CEO Suzanne Scott and President Jay Wallace Wednesday morning, the anchor's termination follows an investigation into the allegation of misconduct.
"On Thursday, June 25, we received a complaint about Ed Henry from a former employee's attorney involving willful sexual misconduct in the workplace years ago," Scott and Wallace said.
The America's Newsroom anchor was suspended that day, pending an investigation from an outside law firm. Six days later, he was fired.
"Based on investigative findings, Ed has been terminated," Scott and Wallace wrote.
Attorney Doug Wigdor, who has filed a series of lawsuits against Fox News, told Mediaite in an email that he was representing Henry's accuser — confirming a CNN report. "We do represent the victim but have nothing to add at this point," Wigdor said when reached for comment.
Henry, a longtime Washington D.C. correspondent, joined Fox News in 2011 after seven years at CNN. He served as chief White House correspondent for Fox during the Obama administration, with a term as president of the White House Correspondents' Association. Henry guest-hosted Fox & Friends Weekend for two years, before December when he was promoted to co-anchor of America's Newsroom — following Bill Hemmer's elevation to his own 3 p.m. show — alongside Sandra Smith.
Smith reported Henry's firing on the air during Wednesday's broadcast of America's Newsroom. "Rotating anchors will be sitting in with me until a replacement is named," she said.
Henry's time at Fox included controversy. In 2016, tabloids broke the story that the married Fox News reporter allegedly carried on a 10-month affair with a Las Vegas stripper. Henry was suspended by the network, and then-Fox News chief Roger Ailes issued a blistering statement regarding his employee: "This raises serious questions about Ed's lack of judgement, especially given his position as a journalist."
Ailes, of course, was forced out of Fox News in a network-wide sexual harassment scandal in 2016. The memo regarding Henry's firing goes on to note Fox's overhaul of its HR operation in January 2017, implemented to address the sexual harassment complaints at the network that prompted the ouster of Ailes as well as star host Bill O'Reilly.
Read the full memo here: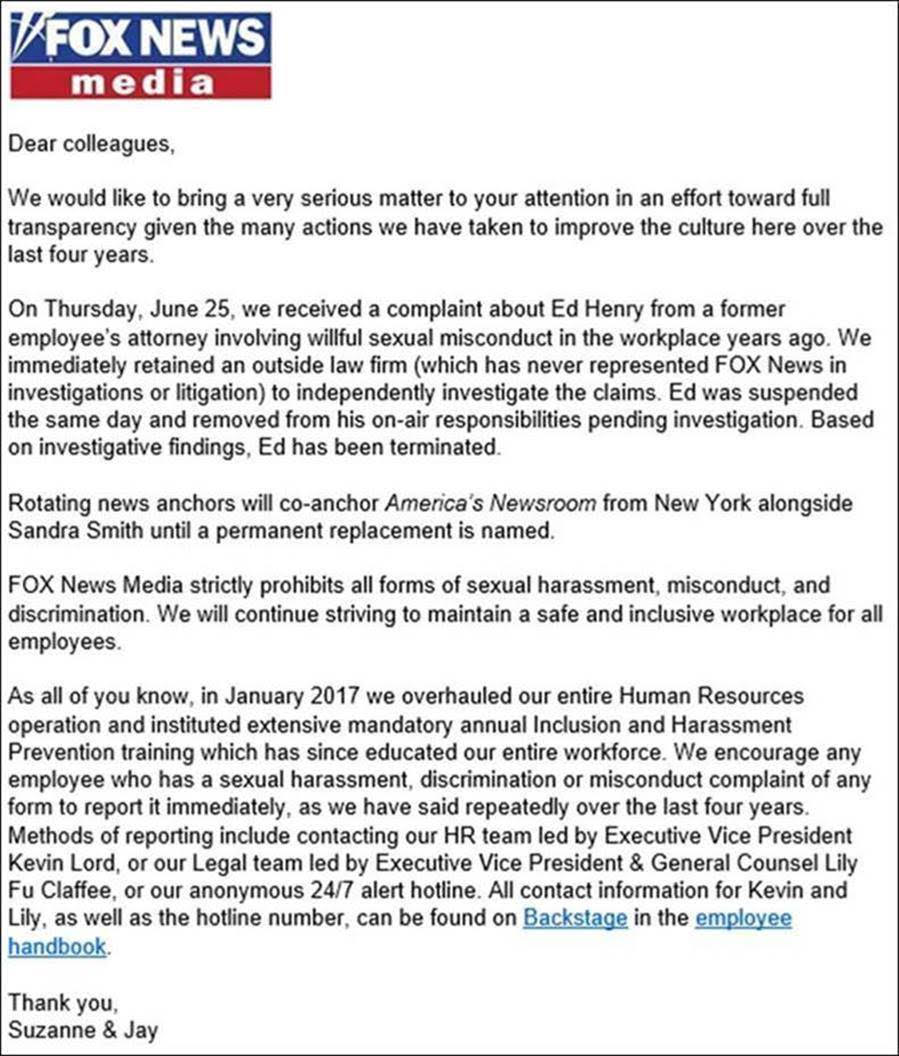 UPDATE — 7:15 pm ET: Henry is now denying the allegations in a statement released tonight from his attorney:
This just in from Ed Henry's attorney Catherine Foti: "Ed Henry denies the allegations referenced in the Fox announcement and is confident that he will be vindicated after a full hearing in an appropriate forum."

— Brian Stelter (@brianstelter) July 1, 2020
Correction: A previous version of this story stated Ed Henry was suspended the day after the complaint was filed. He was suspended the same day.
Have a tip we should know? tips@mediaite.com
Aidan McLaughlin - Editor in Chief