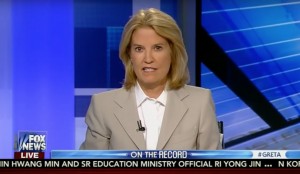 Stalwart network anchor Greta Van Susteren will be leaving Fox News after a tenure of 14 years with the network.
Beginning today, Van Susteren's slot hosting On The Record at 7 p.m. EST will be hosted instead by Brit Hume. The network's new co-presidents Jack Abernethy and Bill Shine announced the news moments ago.
Abernethy and Shine, who were installed following the ouster of former network Chairman and CEO Roger Ailes, said of Van Susteren, "We are grateful for Greta's many contributions over the years and wish her continued success."
Just several weeks ago, Van Susteren produced an exclusive interview with Ivanka Trump about her father's 2016 candidacy that was heavily featured on Fox. No reason for Van Susteren's exit was given.
In a statement about his new role beginning tonight, Hume said, "I am happy to take on this assignment for the balance of this extraordinary election."
Van Susteren last appeared on-air anchoring On The Record on Wednesday of last week, an episode of her venerable cable show that featured a sit-down with Green party candidate Dr. Jill Stein. On The Record was guest hosted by Martha MacCallum on Thursday and Kimberly Guilfoyle, who opened the show saying she was, "…in for my friend Greta Van Susteren." Van Susteren's Twitter bio still reads:
HOST of ON THE RECORD at 7pm eastern / FOX NEWS CHANNEL
Earlier this morning, Van Susteren took to her Facebook page with the following post making no mention of her departure, that instead offered an homage of sorts to the first day of school:
This story is breaking and we will update as more information becomes available.
Have a tip we should know? tips@mediaite.com