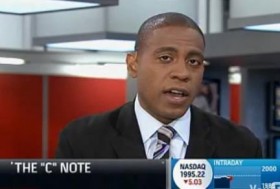 Mediaite has learned that Carlos Watson, anchor of MSNBC's 11 a.m. weekday show, "Live with Carlos Watson," will no longer be anchoring that hour on the network. An MSNBC spokesperson confirmed the rumor, which we learned via Mediaite columnist Danielle Belton on her website, The Black Snob. MSNBC spokesperson Alana Russo said that yes, Watson's hour had been canceled, but that he will remain a contributor with MSNBC.
Watson's tenure as the 11 a.m. host was brief, awarded the gig only in June, scooping up the hour amid chatterings that Meet The Press host David Gregory would anchor at that time for one day a week, and that MSNBC Chief Washington Correspondent Norah O'Donnell was also up for an hour. Russo said that there is no replacement scheduled for the 11 a.m. slot, which will be covered by the MSNBC dayside anchor team.
Watson's website, The Stimulust, is currently "on hiatus" according to its front page, and will be "back soon." (Update: According to Politico's Patrick Gavin, it's been "stagnant for weeks.") We've emailed Watson for comment and are awaiting a reply. (In the meantime, the front page slideshow looks pretty sharp; I must confess that I clicked on this. And the LeBron illustration is great.)
For background, here's what Danielle Belton posted earlier today:
I'm hearing murmurs from sources that as of Friday Carlos Watson's 11 a.m. MSNBC show might be no more! Will do some digging to see if that's true… If this story is true this is a major bummer. First my Uncle Rolly Rolls gets no show from CNN (but luckily Roland Martin will be getting his own shot at a political news gig on TV One this fall), and now this! What's it gotta take for a person of color, black or otherwise to get and keep a news show on the air?
I don't know why Watson's hour was canceled — Russo declined to comment on that part — but it's no secret that the original MSNBC dayside shakeup was ratings-related. MSNBC confirmed that the hours hosted by Dylan Ratigan and Dr. Nancy Snyderman are safe, so it seems to reason that Watson's hour was the low-rated alien-baby stepchild in the bunch.
…but then there's this, from TV By The Numbers, just two days ago:
I'm sure there were high hopes at MSNBC a few months ago when Dylan Ratigan's Morning Meeting (9-11am) and the Dr. Nancy (12pm) show launched that they'd rejuvenate weekday daytime ratings.

But, sadly for MSNBC, at least initially, those 2 shows have tallied weaker ratings than the shows in the same timeslots a year ago. Ratigan's Meeting is down 26% in the cable news targeted adults 25-54 demo, and Dr. Nancy's show is down 43% in that demo, as well as 27% in viewers.
Down 26%? Down 43%? Yikes, that is not good. (Though please consider that a year ago we were in the thick of the conventions and Sarah Palin had just been introduced into the media bloodstream. That'll make a difference in ratings.) It stands to reason — and we have indeed heard — that Watson's hour was also performing poorly. But — poorly enough to stand out amongst these numbers?
Also, to be fair, Watson's hour never got the kind of promotion that Ratigan's Morning Meeting or Snyderman's Sniffle-Tastic Swine Flu Hour got, with interstitial promos and the like — just a look at the website makes that plain (though where is Andrea Mitchell across the top? And to be fair, David Shuster and Tamron Hall are not pictured, either).
Upshot: Watson was never announced as permanent anchor nor was given much of a push — but he did have a website with a well-covered launch, and was permitted to use feature ideas from that on his show (i.e. his "C-Note" segment). So, presumably it was his to make work, or on with the next person.
And who will be that next person? Well, I'm just going to throw something out there: If mornings and 11 a.m. are such a challenging spot, then maybe MSNBC needs to try something different. Here are two suggestions: (1) Force Willie Geist to stay up for one more hour and rerun a version of "Way Too Early" at 11, because that show is tight and quite fun; (2) Try for the younger demo via Ana Marie Cox, whose guest-hosting for Rachel Maddow was very impressive. Also, she has 1,104,204 Twitter followers. Those are the kind of numbers that could prop up Ratigan, Snyderman, and everyone else across the MSNBC dial. Something to think about.
(NB: I should note here that I rarely caught his show so I cannot make a qualitative judgment here. As someone who leaves MSNBC on in the background a whole lot, that, too, may be saying something. As for "Sniffle-Tastic Swine Flu Hour," that's not a qualitative judgment, either; I just thought it sounded funny. Swine Flu is important!)

This post has been edited and updated from its original version.
Have a tip we should know? tips@mediaite.com