Carville Blames Clinton Email Scandal on 'Stupid Media People Making Stuff Up'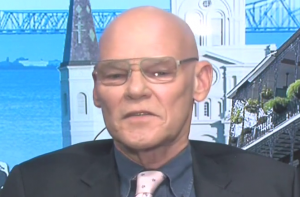 Clinton ally and Democratic strategist James Carville dismissed the importance of the Hillary Clinton email scandal on MSNBC's Andrea Mitchell Reports, taking aim in particular at The Washington Post.
"I had to come out because of all the foolishness going on," he said. "That gentleman [Washington Post blogger Chris Cillizza] talks about a total Democratic freakout, and then he quotes a guy who talked to a guy."

Carville said that owner Jeff Bezos "needs to go to The Washington Post and get this place in order. There's nobody editing this newspaper as far as I can see."
"If there's no full-scale Democratic freakout, why is there a rise in support for Bernie Sanders, why do now have her below 50% with Democrats for the first time, and why does she have the lowest approval rating since 2001?" asked guest host Luke Russert.
"Look, polls go up and down," Carville responded. "This is foolishness. I'm having to come out of my vacation to deal with this kind of stupidity that these people are putting out. Hillary is going to be just fine, it's going to be just fine."
He proceeded to put on a squeaky voice and make fun of Clinton's critics. "'We don't like Hillary, why are Paul Begala and Jim Carville out there defending her? Why can't we attack her like I want to?' I understand this, I've been dealing this for 23 years now."
"So one of the highest paid political operatives in the world, you have no problem seeing 'FBI,' 'Clinton' and 'criminal investigation' next to each other in headlines around the country?" Russert pressed.
"No, it's not going to amount to a hill of beans, just like all of the other stuff that I've been through…," Carville said. "It's mostly just stupid media people talking to other stupid media people making stuff up, and spinning themselves up on something that's not going to amount to a hill of beans."
Watch, via MSNBC:
[Image via screengrab]
——
>>Follow Alex Griswold (@HashtagGriswold) on Twitter
Have a tip we should know? [email protected]