Chinese Reality TV Star Becomes State Enemy After She Jokes About Liking BMWs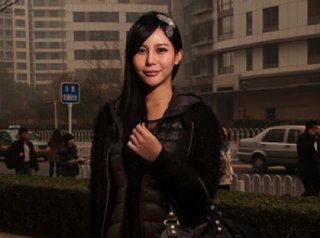 Reality television in America is often taken for granted and derided as corrosive to the fabric of society. In China, however, it appears that the emergence of reality television in the form of dating shows has only prompted the same response from the communist government, as the single most popular show on Chinese television, "If You Were The One," breaks down cultural mores and exposes a side of the nation's youth that yearns to speak freely about sex, money, fame, and family.
RELATED: Actor Christian Bale Escapes Chinese Police In Epic Car Chase On CNN
The show, the brainchild of producer Wang Peijie initially garnered attention simply by being provocative– among the many things previously alien to Chinese television were jokes about S&M and sexual fetishes, things the Chinese government is not particularly keen on allowing young people to discuss on television. The backlash from the government could have possibly been caused by the fact that the show was an resounding success, with 50 million viewers during the first half of 2010, a record-breaker. It didn't help that the problematic content was not restricted to sex, but to what the government declared "materialism and unhealthy, incorrect views on marriage"– people being honest about wanting a better future for themselves. The watershed moment appeared to come as a consequence of a comment from one contestant, Ma Nuo, a young lady who a male contestant tried to entice with a bicycle ride. "I would rather cry in a BMW," she replied, than be happy with him on a bicycle. And she wasn't the only one speaking what is considered blasphemy in a communist nation:
The show's notoriety surged after one contestant, Ma Nuo, rejected a man with her "cry in a BMW" remark. Ms. Ma got thousands of messages from fans and critics alike. Supporters said she was only publicly voicing what many women think.

Ms. Ma, 23, said in an interview that producers had told the women not to spare the dignity of the male contestants. After the BMW comment, "Because they saw that I was outspoken, they wanted me to say more controversial things," she said.

On another episode, Zhu Zhenfang brushed off a suitor by saying that any man who wanted to shake her hand had to pay 200,000 renminbi, almost $32,000, because "my boyfriend must have a monthly salary of 200,000" renminbi. Another woman, Yan Fengjiao, made the headlines when nude photographs of her appeared online.
Ma was wonderful for the shows ratings, but disastrous for its future and that of the genre. To prevent future "Ma Nuo" moments, the government forced the show to choose older, more somber contestants, and added a "sidekick" to the program especially designed to demonize contestants that went out of line, described by the New York Times as a "matronly professor from the provincial Communist Party school." As for the rise of copycat programs, the government now only allows two "entertainment shows" on primetime wa sweek, rather than the 126 that aired a week this fall.
It is easy to dismiss and deride the reality programs the average American finds often unavoidable– the parade of Kardashian spins-offs, increasingly generic singing competitions, and basically anything on VH1. To Americans, much like the Kardashians themselves, the shows are one of the necessary evils of living in a free country, like taxes and fast food. To the Chinese, reality TV is increasingly becoming a form of rebellion, a necessary good on the road towards liberating an imprisoned country. If the Chinese government thinks it has a problem on its hands because young people know what BMWs are, just wait until they discover Justin Bieber.
The fascinating New York Times report on "If You Were The One" here, and their video coverage below:
Have a tip we should know? tips@mediaite.com