Chris Hayes and Guest Ponder Whether Bobby Jindal, Phil Robertson Should Try Anal Sex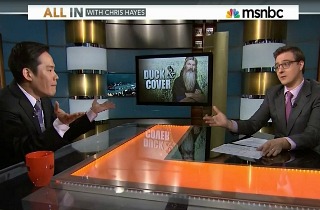 With the media continuing to reel from insensitive comments made by Duck Dynasty star Phil Robertson, MSNBC host Chris Hayes and The Nation reporter Richard Kim had an interesting take on the incident on Thursday night's episode of All In. Riffing off the crude language used by Robertson in his interview, the pair shared a laugh when they wondered whether Robertson and his supporters in politics really know what it is they are missing.

Hayes read a portion of a statement defending Robertson from Louisiana Gov. Bobby Jindal who linked the Duck Dynasty star's suspension to a violation of his First Amendment rights.
"We should point out that the First Amendment does not guarantee anyone to a cable news show, or a cable show, or network show," Hayes said. "But I was a little surprised, given how vile the comments are, given the very rapidly shifting norms about how people feel about love of people of the same gender, right? That the right-wingers sort of lined up so quickly behind him."
RELATED: WATCH: In 2010, Duck Dynasty's Phil Robertson Called Gays 'Insolent, Arrogant, God-Haters'
"I think one of the really funny things about the comments was the sort of anatomical crudeness of them," Kim agreed. "He said that a vagina is more desirable than the anus, and it's sort of like, has he tried the anus? Because, maybe if he did he would like it more."
"If you're going to kind of reduce something as complex as human sexuality to what orifice is better," Kim continued, trailing off as Hayes doubled over with laughter.
Watch the clip below via MSNBC:
h/t Weasel Zippers
[Photo via screen grab ]
— —
> >Follow Noah Rothman (@NoahCRothman) on Twitter
Have a tip we should know? tips@mediaite.com