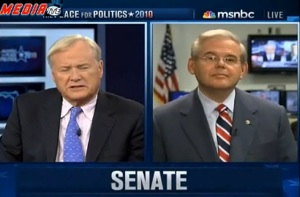 Chris Matthews was afforded the occasion to interview sitting Senator Robert Menendez (D – NJ) about today's election results, and took the opportunity to take a shot at the GOP slate of candidate in his own loving and inimitable way. After lauding the Democrats for getting "the kind of candidates you wanted this year," he then called the GOP slate "a lot of stray cats and dogs." Note to Mr. Matthews: the cats and dogs seem to be winning, regardless of their pedigree.
Rough transcript of his comments (via TVEyes):
Senator, it is Chris Matthews. I am amazed that you have had a pretty good successful run I think in getting the kind of candidates you wanted this year. The Republicans, on the other hand, has gotten a lot of stray cats an dogs, a strange group you never would have predicted a year out. Look at Mike Lee knocking off the incumbent senator in Utah, 89% conservative rating and they said he wasn't conservative enough. Joe Miller, coming out of nowhere. Rand Paul, of course, knocking off their favorite, Grayson, and then Ken Buck doing the same thing in Colorado. You are a little better off tonight, even though it looks like a tough night, aren't you, than if the republican party had been as disciplined a its record would suggest over the years?
Allow me to express the sentiment sure to be said in the comments below: those "stray cats and dogs" appear to be putting the hurt on some well-heeled and establishment pedigreed Democratic candidates in the election tonight. Special note – see if you can see the sense of relief in Senator Menedez' disposition that he's not up for reelection this year.
Have a tip we should know? [email protected]