Chuck Lorre Explains Why He Resurrected, Killed Charlie Sheen on Two and a Half Men Finale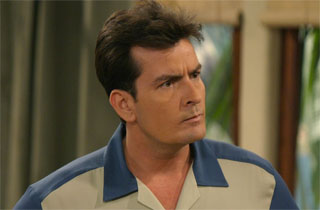 Last night was the end of a long national nightmare of comedic misogyny and bad jokes ripped from The Odd Couple Two and a Half Men, but instead of doing a sappy TV ending where everyone says goodbye to each other or discover they were in a dream all along, creator Chuck Lorre spent the entire episode getting revenge on his controversial former star, Charlie Sheen.
Sheen famously shut down production on Two and a Half Men during a contract dispute in 2011, and subsequently going on, well, this. Though the future of the popular sitcom remained in doubt, Lorre simply replaced Sheen with younger, sexier Ashton Kutcher, and the show maintained its ratings for the next four seasons, without an ounce of tiger blood or Adonis DNA.
So last night, Lorre went all-out against Sheen for a solid hour. The plot, according to the Washington Post (a reputable source for all things Two and a Half Men): Sheen's character, who supposedly died in the Season 9 premiere, was actually in an underground prison for all this time, but escaped to get revenge on everyone else in the show. As a character on the show explains: "You're richer than him, prettier than him, moved into his house and carried on like he never existed."
The rest of the episode is a series of in-jokes and Sheen references:
Walden receives a threatening text from Charlie: "You despicable troll. You thought you could replace my ninja awesomeness, you lame clown. I will deploy army of assassins to destroy you, I will bring my bayonets of truth to the hexagon of death where I will carve my initials into your reptilian skull and cover you in tiger's blood."
And so forth.
In the final scene, Charlie appears in the dead of night, ready to murder Ashton Kutcher and Jon Cryer, when suddenly a piano fell on his head.
Sadly, that was not the real Charlie Sheen, but Lorre explained on Twitter that he hoped that the former star would be able to make it onto the show for its finale. What he proposed to Sheen, however, was short of a heartfelt homage:
"Our idea was to have him walk up to the front door in the last scene, ring the doorbell, then turn, look directly into the camera and go off on a maniacal rant about the dangers of drug abuse. He would then explain that these dangers only happened to average people. That he was far from average. He was a ninja assassin from Mars. He was invincible.

And then we would drop a piano on him.

We thought it was funny."
According to Lorre, Sheen countered that he wanted the show to set up his return to primetime TV "in a new sitcom called The Harpers starring him and Jon Cryer."
"We thought that was pretty funny too."
Watch Charlie Sheen die below, via CBS:
[h/t Time]
[Image via screenshot/CBS]
— —
>> Follow Tina Nguyen (@Tina_Nguyen) on Twitter
Have a tip we should know? tips@mediaite.com