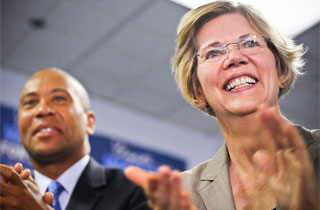 During a constituent event in Springfield, Mass., Sen. Elizabeth Warren (D-MA) was asked why her pro-middle class messaging and actions against large financial institutions was resonating with so many Americans, and why they're repeatedly calling for her to run in 2016. While Warren still said she wouldn't run — and, frankly, the over/under on her running is seemingly low — she did say that she understood why people wanted her to do so.
"Americans understand that the game is rigged, and they've had enough of it. They're ready to fight back. They want a Washington that works for them," Warren said, according to MassLive.com. "I think that people are getting more engaged, politically, and they're seeing through a lot of the rhetoric that politicians have been throwing out there for a long time. They want to see some real change, and I think that's what we need to work on."
While nothing she said indicates she'll run in 2016 — indeed, Hillary Clinton was spotted taking a private meeting with the Democratic star — her comments did, of course, stoke relentless speculation that maybe she was actually, totally running. Reports The Hill:
Neil Sroka, communications director for [Democracy for America], said in a statement that Warren's remarks on Thursday are "an incredibly clear sign" that she is listening to progressives' calls for her to enter the race.

"There's still plenty we plan on doing to encourage Senator Warren to heed the call of her supporters, change her mind about running, and enter the 2016 race, but, after what we heard today, there's no doubt she's listening," Sroka said in a statement.

Ready For Warren campaign manager Erica Sagrans said in a statement that progressives are "ready to help [Warren] fight back."

"Our message to Senator Warren is this: 'when you're ready to run, we'll be ready to help you fight back," Sagrans said in a public statement.
This writer will wager she's not running in 2016, solely based off the fact that we're in the middle of the fertile period of time where all the potential candidates smack-talk each other before their campaigns even officially begin. Either that, or she's impossibly saintly and somehow refuses to talk smack. Who knows anymore.
[h/t The Hill]
[Image via Elizabeth Warren/Facebook]
—
>> Follow Tina Nguyen (@Tina_Nguyen) on Twitter
Have a tip we should know? tips@mediaite.com