Chuck Pfarrer: White House Accounts Made SEAL Team Six's Actions Look 'Sloppy' And 'Criminal'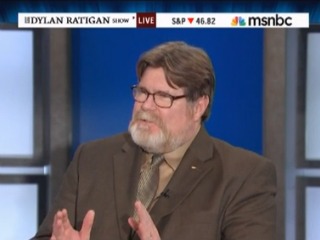 On Wednesday's edition of The Dylan Ratigan Show, former Navy SEAL Chuck Pfarrer spoke about his new book, SEAL Target Geronimo: The Inside Story of the Mission to Kill Osama Bin Laden, wherein he offers a strikingly different account of how the much-publicized raid of Osama bin Laden's Pakistan compound unfolded.
For one, says Pfarrer, there are simply too many "official" versions of what happened in Abbottabad that night. For example, after President Obama addressed the nation with details of bin Laden's capture and death, various politicians came forward with "disconnected, contradictory facts" of their own. The result, says Pfarrer, is that, by August, these disparate account metastasized into "an ugly tale of murder" rather than a special military operation.
How can one tell the difference between the two?
RELATED: Details Emerge On Secret Navy Seal Team That Killed Osama Bin Laden
Well, let's look at it this way: You've got two helicopters approaching the target. You know, I'm not giving away any tactics to tell you that the high ground is where you want to go. One helicopter goes down, allegedly, on insertion. That's why you have two helicopters. Why wouldn't the second helicopter land on the roof, which is the nub of the operation? And am I really to believe that the second helicopter diverted to put its guys down on the other side of a 20-foot wall with a 10-foot steel gate? It just, it doesn't float.
Pfarrer also noted that, in most high-profile missions, the goal is to capture the target, not to make sure this person is killed, calling the order to "kill some guy no matter what" an "unlawful order."
The author also notes that he had to sift through various accounts from people who had different perspectives on how, exactly, the mission was accomplished, with people from certain agencies "really trying to sell me their stories." He said he is concerned with how accounts of the mission coming from the White House and the government inadvertently painted the SEAL Team Six members' actions as not only "sloppy," but also downright criminal.
RELATED: Clinton On Shocked Expression In Bin Laden Sit Room Photo: May Have Been 'Preventing A Cough'
As for that increasingly iconic photo of Secretary of State Hillary Clinton and others in the administration reacting, supposedly, to news of bin Laden's death… Pfarrer says the photo more likely depicts footage of the helicopter that went down, adding that there's no such thing as a "helmet cam" for such soldiers. Instead, footage of the mission most likely takes the form of an overhead view.
It's worth noting that National Journal correspondent and The Atlantic contributor Marc Ambinder Tweeted that contentions Pfarrer makes in his book have been contested: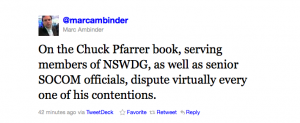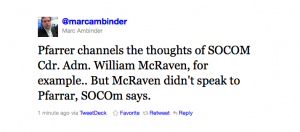 Have a look, via MSNBC:
Have a tip we should know? tips@mediaite.com