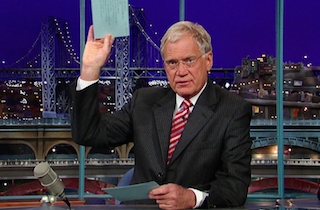 Mostly because of his complicated relationship with Sarah Palin in recent years, David Letterman was seen as an enemy by many on the right. But looking back at the jokes he made on his two late night shows over the years, which side of the aisle actually found itself as the butt of his jokes most often?
In an attempt to answer this question, Vocativ.com went back and examined the subjects of his top ten lists dating back to 1987. And after reviewing more than 4,000 such segments, they found that the Clinton and Bush families were targeted more than any other figures by far.
But if you suspected that Letterman spent more time making fun of George W. Bush than he did Bill Clinton, you would be wrong. Vocativ determined that the Clintons were the subject of Letterman's top ten list 157 times compared to 117 times for the Bushes. The next most popular target? President Barack Obama, with just 45 top ten lists.
RELATED: WATCH: Top Ten Politicians Who Presented Top Ten Lists on Letterman
And on both sides, it wasn't just the presidents who who took Letterman's heat, but also their wives and daughters (and now brothers in the case of Jeb Bush).
Over the course of the 28 years that Vocatic surveyed, a Clinton was in the White House for eight years, compared to 13 years for the Bushes and seven for Obama. But then again, you have to account for the the fact that Hillary Clinton has more or less been running for president for the past 10 years.
Watch the two most recent Bush and Clinton top ten lists below, via CBS:
[Photo via CBS]
— —
>> Follow Matt Wilstein (@TheMattWilstein) on Twitter
Have a tip we should know? tips@mediaite.com